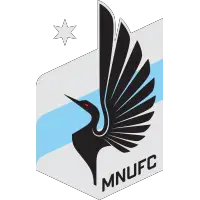 MNUFC Finishes Road Trip with a Draw against Vancouver
August 1, 2021 - Major League Soccer (MLS) - Minnesota United FC News Release



SANDY, Utah - In the Vancouver Whitecaps' final home game at Rio Tinto Stadium in Sandy, Utah, Minnesota United came in a bit flat after their 2-2 draw against LAFC earlier in the week. But the Loons persevered after falling behind in the first half to first level the game before the break and then take a late lead on a Robin Lod goal in the 75th minute. And then at the death, a highly suspect penalty call against the visitors would allow the Whitecaps to draw level at 2-2, giving each team a point.
With an understanding that Minnesota United were coming into the game having pulled off a last minute draw at LAFC just three nights prior, the Vancouver Whitecaps began the game exerting defensive pressure on Minnesota far up the field. The high press caused the Loons trouble early as they struggled to get the ball into the Whitecaps' half. While they didn't come out flat, exactly, the home side beat the visitors to the ball consistently through the game's opening minutes and made the most of the open spaces.
Once a primarily counterattacking team as MNUFC began its tenure in MLS without a true playmaker, Minnesota have since grown into a team more comfortable with the bulk of the ball. But faced with the Caps' defensive pressure, they had to rediscover the direct approach. In the 13th minute, midfielder Emanuel Reynoso threaded a pass to midfielder Ethan Finlay but the first touch for Finlay was a bit too heavy. The first half also feature several offside calls against MNUFC - a bit of an anomaly for a usually disciplined team.
In addition to the high press, Vancouver looked to pull Minnesota's defense wide as wingers Cristian Dajome and Deiber Caicedo kept chalk on their feet throughout the first half. While fullback Romain Metanire still managed to range forward, the tactic did a good job keeping the less experienced DJ Taylor back and defending. When the Loons were able to get on the ball, however, they often rang up the better chances. In the 23rd minute, Minnesota got their first corner kick of the game and defender Brent Kallman rose up unmarked and struck a header with purpose that went wide left.
In the 36th minute, however, the Whitecaps broke the game open. Getting out on the counterattack, the speedy Dajome slotted a left-footed strike past the outstretched arms of Tyler Miller to give the home side a 1-0 lead. Dajome was only just kept onside by Taylor, who dropped just a step instead of stepping up at the crucial moment.
It gave the Loons a chance to double down on the road chops they've showed off recently as it's been evident that Minnesota has gotten more comfortable both on the road and playing from behind. Sure enough, in the 45th minute of the first half, Reynoso once again found Finlay on the run between two defenders and this time, the first touch was money. Finlay drilled the well-weighted ball with his left foot past goalkeeper Thomas Hasal to level the game just before the half.
Heath began the second half with a substitution, bringing on forward Adrien Hunou for midfielder Jacori Hayes and shifting the team's look from a 4-3-3 to its more traditional 4-2-3-1 formation. The move seemed to settle the visitors as they moved the ball with more precision and managed to exert more pressure on the home side with the attack.
A litany of chances began to materialize for Minnesota as they built their possession up. In the 61st minute, a turnover led to a blistering Reynoso shot that went straight at Hasal for a routine save. In the 69th, Hunou whipped in a fierce header off a Reynoso free kick that struck the woodwork instead of the net on the right. Then, in the 75th minute, midfielder Wil Trapp cut off a pass and quickly charged up the field, finding midfielder Robin Lod on the right wing. With Hunou matching him stride for stride, the defense wasn't sure where to commit, giving Lod the time to get the ball to his favored left foot for a strike that rippled the net and gave the visitors the lead late on.
In the 82nd minute Vancouver coach Marc Dos Santos sent on a platoon of subs in the hope of stealing a point from the game, and as it turned out, that's exactly what they did. With the fourth official having called for three minutes of stoppage time, the game was all but over in the 93rd minute when an errant ball struck Finlay in the chest just outside of the MNUFC box. Finlay gave chase and Dajome contested him for the ball without actually getting a touch on the ball and then went down, leading to the referee calling for a penalty. The call would stand and Dajome stepped to the spot, delivering a strike to his left as Miller dove right to make it 2-2.
BELL BANK MAN OF THE MATCH: Midfielder Robin Lod
LINEUPS:
Minnesota United: GK Tyler Miller; D DJ Taylor, Bakaye Dibassy, Brent Kallman, Romain Metanire; M Wil Trapp (c), Hassani Dotson, Jacori Hayes; F Emanuel Reynoso, Robin Lod, Ethan Finlay
Vancouver Whitecaps: GK Thomas Hasal; D Cristian Gutierrez, Ranko Veselinovic, Erik Godoy, Jake Nerwinski; M Deiber Caicedo, Janio Bikel, Russell Teibert (c), Michael Baldisimo; F Cristian Dajome, Brian White
UP NEXT
MINNESOTA UNITED FC vs. HOUSTON DYNAMO
Allianz Field | Saint Paul, Minnesota
8.7.2021 | MLS Week No. 17 | MLS Game No. 17
7:00 p.m. CT (Bally Sports North, CW Twin Cities, MNUFC Radio on SKOR North)
MINNESOTA UNITED QUOTE SHEET
MINNESOTA UNITED HEAD COACH ADRIAN HEATH
On the penalty awarded to Vancouver at the end of the game...
"I think the referee [Lukasz Szpala] was the only one who thought it was [a penalty], but considering the night he had, I shouldn't be surprised that he's probably made a really poor decision in the 93rd minute because he's made them most of the evening, I felt. He's not had a good night, but it is what it is. Not going to change it now. It's disappointing, it feels like a defeat but it's not. You've heard me say it a million times, a point on the road is never a bad result. Sure, we wanted the three and when you're so close, everyone is incredibly disappointed. I thought we were excellent second half. Got about, started to play. Even in the first half where I thought we were nearly good, when we were at it and got in good spots, we created some good opportunities. I'm disappointed for the players because on the back of putting so much in on Wednesday evening against a team that makes you work so hard. We've had our highest physical data since I've been here on Wednesday in LA. For the same group to put in the same effort and commitment in that they've done tonight, speaks volumes and although I said it feels like a defeat, it wasn't. We keep the run going and we've set ourselves up nicely for next week."
On if he got a chance to look at the video of the call after the game...
"I thought [Cristian Dajome] threw himself into Ethan [Finlay] and the ref fell for it. I didn't think it was a penalty, seeing it live and seeing it after. But as I said Jerry, we can talk about it all night, it's a bad decision but he was poor all evening. We shouldn't be surprised. It could have been the other way. He could have done it the other way. And by the way, we all have bad nights. I have bad nights, players do and referees have bad nights, tonight he didn't have a particularly good evening, so we shouldn't be surprised."
On Robin Lod scoring another late goal for the lead...
"He keeps going. He gets in good spots. The bottom line is, he's a very good player. I've said this before, he started a little bit slowly but I know what the rest of the people in the league think. Every time we go and see the coaches after the game, we have a chat, have a drink, invariable Robin [Lod]'s name always comes up. Another quality finish. He's a proper player and I'm glad we've got him. It doesn't surprise me at all, no, because good players bring it when they need to."
On Adrien Hunou's 45 minutes and his almost header...
"It was okay. At the particular time when he came on, halftime, I wanted us to get the ball down, I wanted us to play more and I thought he linked in. I'd like him to be a bit more positive, a bit more greedy in and around the box. It's early days for Adrien [Hunou], he's got better days ahead of him, for sure."
On giving Adrien Hunou more time to adjust to the league, like Robin Lod needed...
"We do. As I've spoke to you guys before, if you look at Adrien [Hunou]'s last sort of six months in France, he barely played so he's not going to come in and hit the ground running and be right on fire. Robin [Lod] came off the beach when he arrived and when you consider the amount of aggravation I took for Robin Lod, internally as well as externally; we have to give players time. They're moving to a new country, they've got to set up. It's never easy. I know people think it is, but it's not. [Adrien] won't be the first and he certainly won't be the last who comes in and probably would like to be playing a little bit better than he is, for sure."
On the status of Michael Boxall and Chase Gasper...
"We're hopeful for both of them for next week."
On the first goal the team conceded...
"We gave it away cheaply, didn't we? And the way that we play, the way that a lot of teams play now, people are starting to take expansive positions up and higher and wider and if you turn it over cheaply, you concede. The one thing about [Vancouver], they have pace up front. If it's a foot race and you're in a bad spot, invariable they're going to beat you to it. If we hadn't turned the ball over cheaply, we wouldn't have had to have dealt with it. But at the end of the day it's a poor goal from us because we had possession of the ball and it wasn't a particularly difficult pass that Romain [Metanire] had to keep possession."
On going home with two points from the road trip...
"Yea. Going to LAFC, on the road. Third game after playing Portland and Seattle, which were high-energy games. Coming here, I knew this was going to be tough because of the workload the guys had done in the week. [Vancouver] haven't lost in six so they're on a little bit of a turnaround themselves. I thought second half, we were very, very good. Disappointed we haven't got the three points because last kick of the game, wasn't it? But in general, I thought the second half performance was good."
On why Lukasz Szpala didn't go to the VAR monitor for another look...
"I don't know. As I said, Andy, I wasn't surprised. As I said to you earlier and I know I'm repeating myself, referees are like players, they have bad nights. He had one tonight, certainly."
On DJ Taylor's shift tonight...
"He was excellent. He's good. He's proved he can play at this level. Chase [Gasper] has been playing really, really well. We thought about should we bring in the experience of Jukka [Raitla] in, change things around, but no. [DJ] has earned to keep his place. The one thing that we know is that we've got somebody who can play at fullback in this league and contributes. So that's always nice."
MIDFIELDER ETHAN FINLAY
On the penalty that got called on him at the end of the game...
"I'll give you two points of view. In real time, ball ricochets off my chest, puts [Cristian Dajome] in the space. I know that he's to my right but I try to take a straight line, cut in towards the ball, knowing that he's there. I didn't know if he had the inside shoulder on me necessarily but I was going to keep my line, essentially. I felt like I did that throughout that moment and I felt like it was more of a lunge by him into me. Obviously, any time you're running shoulder to shoulder with someone in the box, you're trying to do it gingerly, if you will. You know that in those moments, refs are looking to make calls but I don't know what else a player can do in that situation. Now that I've seen it back, I think anywhere else on the field if you ask 99 people out there, 100 people out there, 99 are going to tell you that's a foul on him probably. I don't know how you can just throw a leg out in front of a player, from a side angle, and consider that you have the position. I don't know what else to do. In the moment I have to be a lazy player and not rush back and try to make a play on a ball, which I think is a 50-50. He didn't touch the ball there. The ball came straight off my chest, he never had possession of that ball. I don't know. There's four referees on the field, there's the VAR where there's at least one or two. That has to be explained and unfortunately, they can explain it but it won't give us the points back and that's why I'm gutted and that's why this team is gutted. That was 92 minutes of busting our ass and it was stolen from us tonight."
On his surprise that Lukasz Szpala didn't go to the VAR monitor for another look...
"Surprised would be an understatement. We have a job to do on the field as players, the responsibility of a ref is to be very sure of it. For a guy who, I think, has maybe five games to his name as a referee, I don't care if he thinks he was almost 100 percent, he needs to go look at that. It's too big of a moment for him to not go look at it and make sure that what he saw live is the same thing that he saw. And if he still sees the same thing, so be it. But to not look at it, and that has to go on the VAR. if the VAR doesn't call him to do it, then that should go on him. There needs to be transparency. This is an easy thing that we had in the bubble where there's transparency in these rooms. I don't understand why we can't do it. It would be great for fan entertainment. Players and coaching staff would enjoy transparency. [Media] will like it. Who is objecting to it? Is it the refs? Okay, we'll solve that problem but these are moments where we're not going to know what happened between these five or six people but I think everyone should want to know and we should. We should be asking these questions. Too big of moments. We'll look back at three months time right now and these two points could be the difference between hosting a playoff game or not. That's the reality. And we'll have to face that going forward."
On the fight from the team and Robin Lod scoring another late goal for the team...
"It's tremendous. His composure in these moments...he's a calm guy off the field and then you see him on the field. He's so cool and calm in the moment. That play was indicative of good pressure. We win a second ball, Wil [Trapp] gets the ball and plays a great ball to Robin [Lod] and he does the rest. Robin has been instrumental and he's played in multiple different positions. He's played on the right, he's played on the left, he's played up top. Really happy for him. Tonight was a tough night for everyone, whether it was a lot of minutes on guys' legs, and no environment. This felt flat out there. We had to create the environment and there was lulls in the game for us but for the most part I thought guys worked their asses off. They challenged, it was a windy night. Kind of battled the weirdness that comes with playing here in Salt Lake. For it to end [2-2] it feels extremely unfair to us."
On if the LAFC game felt like a win and this match felt like a loss...
"At the end of the day, they're both ties. The way the LA game ended, we thought that was a pretty fair result on the night. Tonight is a big disappointment because, I think, we think we can beat [Vancouver]. We're more than capable of getting three points on the road. It is what it is. Now we go back home where we've made it a point to be very strong and to make a fortress of it. That's what we look forward to, having these next two here at home and we'll look for six points in those games."
On his first goal of the season...
"It's about damn time, to be honest with you. I've had plenty of chances and to finally put one away and the way that I did it, was a big relief off my shoulders. Hopefully going forward I can play a little more free and can continue to create scoring opportunities and be a bit more composed in those moments. I've scored plenty in my career but when you go through these periods, they feel like they're almost impossible to get back in the back of the net. It absolutely felt great. [Emanuel Reynoso] played me a great ball earlier in the game, in a similar position. [I had] a bit of a heavy touch and I didn't think he saw me. I was ready for it on this one. Another great pass from him. I have to continue to try and make those plays, whether the ball is going to be coming to me or not. It opens up space for the guys underneath. Definitely felt great and disappointed not to get the win the tonight but personally, that was a weight off my shoulders."
On to be on the receiving end of a magical Emanuel Reynoso pass...
"Like I said, you have to be ready for them because sometimes you don't he sees you and he does. It feels great. Those guys have had a lot of minutes on their legs and to continue to play at the high level that they are is instrumental. Adrien [Hunou] came in and gave us a nice spark there late in the game. We have a very talented group of players, [Reynoso] obviously is one of them but we have a very talented group. That's what you need to make a run in the end and I think we're starting to play some really good soccer."
On if Adrien Hunou needs more time to adjust to the league, like Robin Lod needed...
"You continue to try and encourage a player like that who has a proven track record. We know that [Adrien Hunou] can score goals, we brought him here to score goals. We try to do everything we can to relieve the pressure that he might be personally feeling. That's continuing to encourage him, giving him opportunities when he gets in front of net, try to find him in those spaces. Tonight is a good example of you don't always have to score a goal, necessarily, to make an impact and I thought he made an impact off the bench. To me, it's about going in there and talking to the guy and say 'hey, that's a great start. You continue to do that, teammates are going to find you, they're going to want success for you.' It will absolutely come and we spoke a little bit about this yesterday, the strength of this group has always been we've had multiple guys that cans core anywhere between seven to 12 or 13 goals in a season. It's not different. If Adrien has ten goals by the end of the season, I won't be shocked y any means. It would be ten in, what have we got left here? 19 games, if I counted correctly. 18 games. He's more than capable. He's got a proven track record. I have full confidence and I know the group has full confidence in Adrien going forward."
• Discuss this story on the Major League Soccer message board...


Major League Soccer Stories from August 1, 2021
The opinions expressed in this release are those of the organization issuing it, and do not necessarily reflect the thoughts or opinions of OurSports Central or its staff.
Other Recent Minnesota United FC Stories