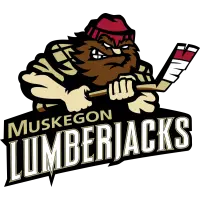 Lumberjacks Set for Friday's Home Opener against the Rival Chicago Steel
September 29, 2022 - United States Hockey League (USHL) - Muskegon Lumberjacks News Release



MUSKEGON - Heading into the regular season, Muskegon Lumberjacks Coach Mike Hamilton was a bit concerned about his team's offense, because there hadn't been a great deal of scoring in the six preseason games.
The Jacks addressed that concern right out of the gate last week and showed their coach they can indeed score goals.
In the season opener on Thursday in Pittsburgh at the USHL Fall Classic, Sioux Falls jumped out to a quick 2-0 lead, then the Lumberjacks exploded for five straight goals in the first period, all by different players.
It started out with rookie Cody Croal scoring at 11:05 of the opening period, followed by Owen Mehlenbacher (11:54), Ethan Whitcomb (14:50), Jake Richard (17:14), and David Hymovitch (19:54).
Suddenly the Jacks were in control and cruised to a 7-4 victory and a 1-0 record.
"It was obviously a great start," Hamilton said. "We got to see a lot of excitement. It was one of those opportunities for the older guys to kind of lead the way. We were down 2-0, then the Owen Mehlenbacher and Ethan Whitcomb lines kind of took the game over for six or seven minutes."
Hamilton is hoping the offense keeps clicking like that on Friday, when the Jacks welcome back their fans for the first home game of the regular season against the Chicago Steel at 7 p.m.
The Steel, perennial powers in the USHL's Eastern Conference, are off to another great start at 2-0. Muskegon is 1-1.
"We're excited for the home opener," Hamilton said. "We hope to have a good crowd. The division (championship) usually goes through Chicago, and this year is no different.
"Chicago is good again. They've created a bit of a machine over there. We're going to have to stay disciplined because they live for power plays, and we're going to have to avoid chasing pucks around, because if you do they can make you look foolish."
Hamilton said the home environment will be a very welcome change after spending several days last week in Pittsburgh, where all the teams from the league gathered for the Fall Classic.
The good part is that there were tons of National Hockey League scouts on hand to watch the players, but the facilities were crowded, according to Hamilton.
"There were hundreds and hundreds of NHL scouts," Hamilton said. "The place was packed with black coats. From a team perspective, however, it was not ideal. Every team was there, so moving equipment around was tough, the locker rooms were packed and playing mid-day games messed up our schedule a little bit. We will be happy to play at home."
Another bad part about the Pittsburgh trip was Game 2. The Lumberjacks could easily be 2-0, but their inability to take advantage of power play opportunities last Friday cost them in a 6-4 loss to Tri-City.
The Jacks had 11 power play chances in the penalty-filled gamed and only scored on one.
"It was a frustrating game," Hamilton said. "There were so many calls, and we basically played two periods of special teams hockey. For a team that prides itself on depth and grinds other teams down, it did not play to our hand.
"The reality is that at this time of year we have spent zero time on special teams, and it turns into a negative. We weren't able to generate good flow. We would have liked to have gotten a little more going, not just scoring on the power plays themselves but generating flow and energy afterward."
Overall, however, the offensive output in the first two games was a happy outcome, and Hamilton is excited about his team going forward.
"We are really excited about the quality of players that our president and general manager have surrounded us with," the coach said. "We have a ton of talent and players who are willing to work hard. It's going to take a little time and some trial and error. This week we've had tons of individual one-on-one video time and instruction time."
• Discuss this story on the United States Hockey League message board...


United States Hockey League Stories from September 29, 2022
The opinions expressed in this release are those of the organization issuing it, and do not necessarily reflect the thoughts or opinions of OurSports Central or its staff.