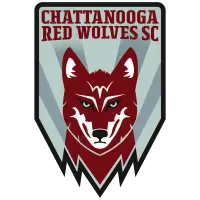 Late Winner Caps Impressive Performance
April 13, 2021 - United Soccer League One (USL1) - Chattanooga Red Wolves SC News Release



CHATTANOOGA, TN. - The Red Wolves kicked off preseason Saturday afternoon against Atlanta United II at CHI Memorial Stadium. Atlanta United II participates in the USL Championship making it a great chance for Jimmy Obleda and his squad to make a statement of intent regarding the 2021 season. "This was actually our first tough week of training. We couldn't be happier," says Obleda, "we take so many positives, just the mentality, the attitude, just that culture that we're trying to personify who we are." The Red Wolves did just that in a grind it out and scrappy welcome back to soccer in Chattanooga.
The match started with both sides finding their feet, but Chattanooga showed well against an Atlanta squad that featured three first team players. Chattanooga Local, Jonathan Ricketts put on a strong performance, winning plenty of 50/50 tackles and looking composed and in control of the Red Wolves' back four. While the first half ended scoreless, Chattanooga's offense created plenty of opportunities. Ronaldo Pineda was instrumental in the attack, getting close to opening the scoring several times in the first 45 minutes. Atlanta also created a handful of opportunities, most notably off a set piece, but it was the Red Wolves shining in the first half and taking the confidence with them into halftime.
"Right now, our goal is to build into may 8th when we kick off our regular season. We're building up player fitness, we're building up their ability to play longer at a higher tempo," says Obleda as he prepares the team for a full 90 minutes. "We're also working on the small things, like defending better, there were a couple of times we were in the final third and we kind of rushed it and we didn't step on it as well, things we need to work on."
The second half began with 10 substitutions from Jimmy Obleda, including Chattanooga's first ever Academy signee Christian Zaragoza, who made his debut with the team at only 17 years old.
"Cristian had his debut today," says Obleda. "He's going to make a professional debut at some point in this season, he's a good player and he's our type of player. It's in his DNA, he's a Red Wolf and he understands what it means to wear this badge. Couldn't be happier for this young man."
With Chattanooga's starters out, the second half brought an entirely different feel to the game however, as Atlanta United II controlled the game for long stretches of the second half. However, even with practically an entirely new squad on the field and a lack of possession, Obleda's back line held firm. Sebastian Mora-Mora played a huge part in that effort when he came on in the second half, making several solid stops and looking in control of his 6-yard box. Fantastic fight and spirit culminated in a breakthrough for the Red Wolves in the 85th minute as a cross was played into the box and thundered into the bottom right corner via a powerful header.
The header gave the Red Wolves a 1-0 victory to begin the campaign. "We're just starting out, we didn't win the championship today," said Obleda to the squad at the end of the game. "It's just like I told them before the game, you don't win the championship today, you take one little step to the ultimate goal of getting to the championship. With humility and hard work and perseverance and dealing with all the stuff that comes, we're going to get there." An impressive win over a very talented MLS affiliated club should leave the club riding high into the next preseason match in Birmingham against the Legion on April 13th at 2:30.
The eleven new faces on the roster will welcome the chance to gel with the 8 men back from last season, and they will all welcome the chance to get back to match fitness. "I think the biggest thing for us is to keep building that fitness and the soccer will come. I think this is going to be a very talented group," says Obleda confidently about the squad.
• Discuss this story on the United Soccer League One message board...


United Soccer League One Stories from April 13, 2021
The opinions expressed in this release are those of the organization issuing it, and do not necessarily reflect the thoughts or opinions of OurSports Central or its staff.
Other Recent Chattanooga Red Wolves SC Stories