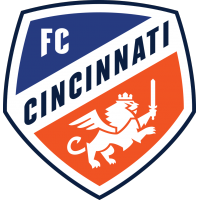 Lamah's late goal equalizes as Orange and Blue stay atop Carolina Challenge Cup standings
February 20, 2019 - Major League Soccer (MLS) - FC Cincinnati News Release



CHARLESTON, S.C. - FC Cincinnati played to a 1-1 draw against the Chicago Fire tonight at MUSC Health Stadium. Roland Lamah scored the lone goal for the Orange and Blue.
The match was FC Cincinnati's second match in the 2019 Carolina Challenge Cup and the club's sixth preseason game of the 2019 Major League Soccer Preseason presented by Advocare.
After a scoreless first half, Chicago took a 1-0 lead through Aleksandar Katai's goal off a break in the 52nd minute. After FCC substituted almost its entire lineup in the 70th minute, FCC turned the tide and continued to push pressure on the Fire before Lamah's strike from distance leveled the score in the 84th minute.
FC Cincinnati will return to MUSC Health Stadium for their final match of the 2019 Carolina Challenge Cup when they play Columbus Crew SC at 5 p.m. on Saturday, February 23.
FC Cincinnati's debut MLS game will be at Seattle Sounders FC on Saturday, March 2, at CenturyLink Field. The Orange and Blue will make their home debut as an MLS team at Nippert Stadium on Sunday, March 17, when the team hosts MLS Cup finalist Portland Timbers at 5 p.m. Season tickets, mini plans and individual-game tickets are on sale at fccincinnati.com/tickets or by calling 513-977-5425 (KICK).
For up-to-the-minute information about FC Cincinnati, visit the team's official website at fccincinnati.com, or follow the team on Twitter, Instagram and Facebook at @FCCincinnati.
MLS Preseason
FC Cincinnati 1, Chicago Fire 1
MUSC Health Stadium | Charleston, S.C.
Wednesday, February 20, 2019
SCORING SUMMARY
CHI - Aleksandar Katai (Nemanja Nikolic) 52'
CIN - Roland Lamah (unassisted) 84'
FC Cincinnati (First Half): Spencer Richey, Forrest Lasso, Caleb Stanko, Hassan Ndam, Blake Smith, Corben Bone, Allan Cruz, Nazmi Albadawi, Emmanuel Ledesma, Darren Mattocks, Frankie Amaya
FC Cincinnati (Second Half): Spencer Richey, Forrest Lasso (Mathieu Deplagne 70'), Caleb Stanko, Hassan Ndam (Nick Hagglund 70'), Blake Smith (Justin Hoyte 70'), Corben Bone (Leonardo Bertone 70'), Allan Cruz (Victor Ulloa 70'), Nazmi Albadawi (Alvas Powell 70'), Emmanuel Ledesma (Roland Lamah 70'), Darren Mattocks (Fanendo Adi 70'), Frankie Amaya (Eric Alexander 70')
Bench: Jimmy Hague
Chicago Fire (First Half): Richard Sanchez, Jorge Corrales, Nicolas Hasler, Grant Lillard, Marcelo, Jeremiah Gutjahr, Christian Martinez, Brandt Bronico, Mo Adams, Armando Moreno, Fabian Herbers
Chicago Fire (Second Half): David Ousted, Diego Campos, Nicolas Hasler, Bastian Schweinsteiger, Johan Kappelhof, Djordje Mihailovic, Przemysław Frankowski, Brandt Bronico (Dax McCarty 66'), Mo Adams, Aleksandar Katai, Nemanja Nikolic
Bench: Stefan Cleveland
MISCONDUCT SUMMARY
CHI - Mo Adams (caution) 45'+1'
CIN - Fanendo Adi (caution) 79'
Weather: 55 degrees and light rain
GAME NOTES
Spencer Richey and Caleb Stanko were the only players to log 90 minutes of action
Forrest Lasso and Darren Mattocks were the only two players to start for a second consecutive match
Frankie Amaya earned his first start of preseason ... the No. 1 pick in the 2019 MLS SuperDraft had made four straight substitute appearances dating back to his first appearance on Feb. 2 against Colorado
The Orange and Blue utilized a 3-4-3 formation for a third straight match
Corben Bone wore the captain's armband in the first half ... after Bone exited the match, Fanendo Adi took over as captain for the remainder of the second half
FCC Head Coach Alan Koch
On if he liked the response of the team in the second half
"Well, we certainly didn't mean to defend that much, and I think that was just a byproduct of how the game unfolded. I think guys just started to sag and we just started to play more and more in our own half and just tried to defend and hang on, because we weren't really having much success when we had the ball. We gave it away way too easily. We wanted to address that in the second half. I think the guys that played in the second half had a little bit more success to start, but I was very, very happy with the way the guys that played the last 20 minutes came on and played. They possessed the ball very, very well. We imposed ourselves on Chicago, we got the ball back as quickly as we could, and that group went out and they won the final 20 minutes."
On Roland Lamah
"That was a fantastic strike, obviously. He deserved it. He's been working incredibly hard so far in preseason. For a guy who is more of an experienced player, he's coming in and he's working like a 20-year-old in preseason camp to get himself ready. So I've been very impressed with how he's been going through his work every single day and glad he got rewarded with a great goal tonight."
On how feels about the team with one preseason match remaining
"I wish it were Saturday night already, I want to get on the pitch and go play another game already. Any time you finish a preseason game and you play well at the end of the game...you almost want to play again right away. So for us to finish the way we did tonight, I wish it was Saturday night already."
FCC Goalkeeper Spencer Richey
On his performance
"I missed a little bit of time at the front end of preseason with an injury in the offseason, but it wasn't that long ago when we were playing at Nippert and the guys were in good form, myself included. You get your confidence from training every day and you get it from game experiences that you have, so I try to take some of my confidence that I had toward the end of last season and apply it to this season."
On how close he feels to being fully back from injury
"Probably 85, 90 percent. Especially the last week, the last week-and-a-half or so. It's really started to feel better, probably started to feel better than it was last year, so getting close."
On if it is difficult to stay composed when facing so many shots
"Yeah, and I think when we're trying to play out, it was the most difficult thing tonight. Shot Stopping and saves, lots of keepers can do that, in MLS especially. I think an area where we struggled in a bit tonight, myself included, is when they high-pressed us. We didn't quite have the composure to try to play through them at times or find guys in the channels at times when appropriate. They were the better team for a majority of the game, but we hung on and did what we had to do to give ourselves a chance at the end to get a point, and we did that."
FCC Midfielder Roland Lamah
On the second group scoring a goal quickly after entering the match
"It's good, I think we are doing well. 10 days left now before the league. I think we are in a good way and we need to be ready."
On his goal
"I know I have a good shot, so when I received the ball, I see the target and I just shot. I just shot. It was a goal and I am happy."
• Discuss this story on the Major League Soccer message board...


Major League Soccer Stories from February 20, 2019
The opinions expressed in this release are those of the organization issuing it, and do not necessarily reflect the thoughts or opinions of OurSports Central or its staff.