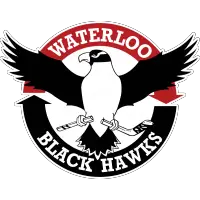 Jack Barzee: Hockey Scout
February 18, 2021 - United States Hockey League (USHL) - Waterloo Black Hawks News Release



P.K. O'Handley's first United States Hockey League team did not win a lot of games.
The 1991/92 North Iowa Huskies finished the season 14-33-1. The club avoided a last place finish by just four points, edging out only the Wisconsin Capitols. In the ten team league, North Iowa was one of two to miss the Clark Cup playoffs. The results fell short of aspirations the 24-year-old head coach had for his team. One night, O'Handley's frustration was evident from the stands as NHL scout - and former United States Hockey League Coach of the Yea r - Jack Barzee looked on.
Barzee went to O'Handley's office after the game.
"I think he spent as much time evaluating my performance as the players on the ice, and he let me know, and I'll always appreciate that. It's had a large impact on my career," recalled O'Handley, who today is the head coach with the most wins in USHL history. "The guy cares, and he cares about people who care about the game."
O'Handley and Barzee saw each other with regularity throughout the 1990s, with Barzee working for NHL Central Scouting and O'Handley building North Iowa into a winning program as the decade continued. As Barzee spent time gauging prospects as part of Central Scouting's mission to identify talent on behalf of the NHL's teams collectively, O'Handley noted something else about his visits to the North Iowa Fairgrounds and other facilities around the USHL.
"It wasn't just about the potential NHL player. When he was scouting and he would come into a building, it wasn't rare - it wasn't rare for Herb Brooks to do the same - he might say, 'I want to talk to so-and-so on your team' and scold that player a bit. But at the same time, Jack built the player up and tried to make him understand that it's the greatest game in the world and maybe that player was wasting a little bit of their talent."
"Growing up in the game, and having the opportunities to do what I did in the game, it's the only thing I ever really wanted to do," Barzee said when asked to reflect on the candid observations he offered to prospects, coaches, and lunch pail players alike, "I would see someone hurting or see a coach that I thought was making the wrong decisions...I wouldn't go up and try to tell them I know it all or anything like that. I would just say, 'Hey, I got a couple thoughts I'd like to share with you. I noticed you were doing this and doing this, and have you ever thought of trying this?'
"I always felt I had something to offer, because I loved the game, and I think God gave me a gift because I could sometimes see the game differently than a lot of other people."
Following the five years he owned and coached the Dubuque Fighting Saints from 1980 to 1985, Barzee was ready to use his hockey insights in a new way. Dubuque had won the Clark Cup playoff trophy three times, two Anderson Cup regular season titles, and two Gold Cup USA Hockey National junior titles. Nonetheless, the daily challenges and stresses of managing all aspects of the Fighting Saints operation were taking a toll. In season, it was routine for Barzee to work 80-hour weeks, with little relief in the summer as he built the next year's squad, sold season tickets, and arranged sponsor partnerships.
By the summer of 1985, Barzee knew it was time for something different. Initially, he hoped to stay in coaching: "There were 11 college coaching jobs open that year, which was amazing. That doesn't happen very often. But it didn't happen for me.
"I was working at a hockey camp up in Nisswa for Minnesota Hockey Camps with Chuck Grillo, and I got a phone call from Jim Gregory of the NHL," Barzee remembered about one of the most important moments during his time in the sport. "There were 300 guys out for the job I got, and he asked me if I would move to Minnesota and come to work for him. The hockey gods were looking after me."
Over the decades, thousands of players' lives changed when Gregory would call their names as moderator of the NHL Draft. Gregory's call to Barzee was similarly life-altering for the then-44-year-old. Freed from the responsibilities of coaching and ownership, Barzee was positioned to watch top players all over North America. As he planned to see as many as 300 games each year, getting there was the only hard part.
"I was on the road three weeks at a time," Barzee explained, outlining a typical trip early in his Central Scouting career. "I would fly to Winnipeg and take a bus to Brandon, Manitoba, with a suitcase, meet a scout from Regina who had a car. We'd watch the game, and then we'd drive all the way back to Regina, and it was like that until I would end up three weeks later in Portland, Oregon. And this is February in the snow, it wasn't a rose garden. It was in and out of the hotels and eating and having a few beers, then travelling the next day to a game."
While the travel was tough, the hockey was often amazing. Barzee saw a generation of players during his early Central Scouting years - and a four-season sojourn with the Washington Capitals - who themselves have gone into the Hockey Hall of Fame and U.S. Hockey Hall of Fame during the first decades of this century.
Joe Sakic with Swift Current and Mike Modano of Prince Albert in the Western Hockey League.
Jeremy Roenick and Tony Amonte in prep school at Thayer Academy.
Keith Tkachuk in Massachusetts and Brian Leech in Connecticut.
Based in the Twin Cities but traveling from one side of the continent to the other, Barzee could see American players making gains as the hockey world was getting bigger. In high school, prep school, midgets, and juniors there were skaters worth seeing. Still, longstanding beliefs among hockey executives we challenging to sway.
"I used to say, 'Hey you guys, don't knock this kid that's playing high school hockey in Hibbing, Minnesota. He's going to be right next to that guy right there that you're talking about who's playing [juniors] in Calgary' and the next thing you know, three years later, those two guys are playing on the same line and you couldn't tell the difference," Barzee said.
"If a player belonged 12th overall [on the Central Scouting] ranking list but he was playing high school or college hockey in those days when I first started, then he had to be put somewhere like 40th in the first ranking, and he had to keep proving himself and gradually they'd move him up. There was a bias, but I learned to live with it. I knew it was a fight, and I came prepared."
Barzee's former Waterloo Black Hawks teammate and Duluth East High School Coach Mike Randolph had seen the same enthusiasm in Barzee's personality when they had been linemates in Waterloo during the 1970s, and noted, "Jack is all for the American hockey player - was all for the American hockey player back then - and it was a tough sell, so American hockey was very fortunate to have a person like Jack in the position that he was."
Former Waterloo and Dubuque player Bob Motzko - now the Head Coach of the Minnesota Gophers - echoed that sentiment, "He stayed very connected and involved and was a believer in the USA system, the USHL system, and the college system. Knowing Jack - and Jack's got a strong personality - he would have fought like heck for the U.S. player at every turn as he was scouting, and I'm sure people at the NHL level leaned on him heavily for expertise."
NHL clubs weren't the only ones to benefit from Barzee's perspective on the game. The 1990s were a disruptive period in the USHL. Many longstanding league members relocated. Others passed to new ownership or moved into new facilities. New and dynamic organizations joined the circuit in previously untapped markets. The arrival of Gino Gasparini as league commissioner in 1995 contributed to a sequence of events which culminated in the USHL becoming the nation's only Tier I league in 2002, providing junior players with a combination of equipment, facilities, coaching, and academic support unsurpassed around the world and now an important component within USA Hockey's American Development Model.
As that long process played out, Barzee was doing more than watching hockey games.
"You look at Gino Gasparini, you look at Herb Brooks, you look at Jack Barzee: they got with a bunch of owners and said what this could be," said O'Handley, "Quite frankly they had a crystal ball that it could be a large feeder for the National Hockey League in times to come, if you took the right steps and invest the right money. You know, as much as Jack was a scout, a coach, an owner, and all those things, he was a heck of a salesman. He - with others - was a driver in setting forth the vision of what this has become."
"I never stopped promoting the league no matter where I was at. I kept very tight with [former USHL Board Chairman] Butch Johnson and Gino and Herbie and a lot of people who were really supportive of the league, and I just kept telling them 'don't worry about what everyone else is doing. Just do your own thing.'"
In 2005, the USHL honored Barzee with its Distinguished Service Award, noting at the time that his position with Central Scouting "...allows him to further champion the cause of the players of the USHL."
Today, nearly a decade after Barzee retired from Central Scouting in 2012, the USHL is consistently producing substantial numbers of NHL Draft picks: 51 players in 2020. The gold medal-winning 2021 U.S. National Junior Team included 23 players with ties to the league. USA Hockey's National Team Development Program has found important competition against 13 other USHL clubs this season and each year since 2010/11.
"People listen to him, and his hand prints are all over U.S. hockey," said O'Handley, concluding, "As a player, as a coach, as a manager, as an owner, as a scout, I think he certainly was a builder in what we're seeing today. If there's a guy in American hockey who belongs in the U.S. Hockey Hall of Fame, it's Jack Barzee."
• Discuss this story on the United States Hockey League message board...


United States Hockey League Stories from February 18, 2021
The opinions expressed in this release are those of the organization issuing it, and do not necessarily reflect the thoughts or opinions of OurSports Central or its staff.
Other Recent Waterloo Black Hawks Stories