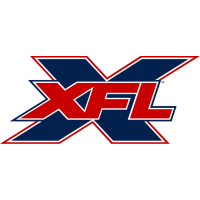 Inside the XFL
by Fran Stuchbury
October 7, 2020 - XFL (XFL)



The XFL announced it will return to the field of play for the 2022 season.
It seems prudent to skip the 2021 season for more than one reason. Staging games in a bubble would have been very expensive. Additionally, four months would have likely been insufficient time to put such a large plan into place for a brand new leadership team.
With the pandemic still ongoing, it was very unlikely XFL games would have been able to have full fan capacity which is a big part of XFL team revenue. The St. Louis BattleHawks want 25,000 to 50,000 fans at games, not a fraction of those numbers.
By 2022, as long as a vaccine is developed, fans could be back at sports events in full capacity.
Dwayne Johnson and Dany Garcia shared this video on all the XFL social media platforms.
"For the love of football and for the safety of our players and fans, we'll be back on the field in 2022," said Jeffrey Pollack, XFL President and COO. "The opportunity in front of us, with our new ownership, is simply too big to rush back. We want to do this properly with care and thought for everyone who loves football, especially our players, coaches, partners and fans."
The XFL has plenty of things to put in place. It will need a commissioner in place to help run the league. Oliver Luck did a phenomenal job last season as the XFL Commissioner but won't return after a falling out with original league owner Vince McMahon. Luck was a constant interview subject by many media outlets throughout the five-week XFL season.
One of my favorite moments of Oliver Luck was him contributing to the beer snake at a DC Defenders game against the St. Louis BattleHawks last season.
More importantly, the league needs to get its television partners in place.
FOX is a good possibility to televise XFL games as it did during the 2020 season. The network shared posts on social media when the new owners purchased the league.
Another possible media outlet for XFL games is NBC since they have a good relationship with Dwayne Johnson. He's producing several projects on their network including the two seasons of "The Titans Games" along with The Young Rock which will air in 2021.
Delaying its re-launch until 2022 gives them ample time to get that in place. As conditions improve with the pandemic demand for live sports programming should increase. The XFL seems custom made for a reality show similar to Hard Knocks on HBO, which would give a behind the scenes look at the XFL players and coaches.
No teams are currently listed on the XFL website. It's unclear if that omission is due to a simple restructuring of the site or if the cities are under review. Some of the teams will almost certainly be back again in 2022 such as St. Louis, Seattle, DC and Houston. A lease at Red Bull Arena may be more suitable than MetLife Stadium for the New York Guardians, allowing them to stay in market. The XFL may consider some other football hungry markets like San Antonio and San Diego.
The XFL probably would have placed teams in Orlando, San Antonio and San Diego when they announced cities in 2018 if the Alliance of American Football didn't beat them to those cities for their 2019 season. The Alliance of American Football lasted eight weeks in 2019 until they suspended operations before filing for bankruptcy.
Over the next several months the XFL will make announcements regarding its future plans. The league now has some time to see how things develop with the pandemic and hopefully stage a 2022 season with no restrictions at all.
• Discuss this story on the XFL message board...


XFL Stories from October 7, 2020
The opinions expressed in this article are those of the writer(s), and do not necessarily reflect the thoughts or opinions of OurSports Central or its staff.