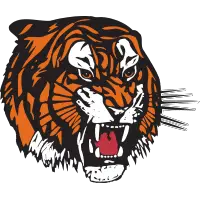 In the Cards with Teague Patton
July 24, 2020 - Western Hockey League (WHL) - Medicine Hat Tigers News Release



Medicine Hat, AB - Ask any Western Hockey League (WHL) player about playing in their hometown in front of their family and friends and they will tell you it is always a special occasion.
For the Medicine Hat Tigers prospect, Teague Patton, that was no exception. Patton was called up to play as affiliate player when the Tigers visited the Kelowna Rockets in November.
We are excited to announce affiliate player Teague Patton will be making his WHL debut tonight against the Kelowna Rockets!! He will wear number 39!!
"I remember almost everything from the game, starting with the rookie lap. Going out on the ice for the first time felt very exciting and nerve racking. The guys on the team talked to me and helped me out and were encouraging. The game was very fast paced and so much fun to play in, getting my first experience with the coaching staff was awesome and I really enjoyed the level of intensity they have and the will to win," said Patton. "That game meant a lot to me and my family as they have been there for me through everything and have sacrificed so much for me. Playing against the Rockets was very surreal knowing I've been watching their games and looking up to them from such a young age."
KELOWNA, BC - NOVEMBER 8: Teague Patton #39 of the Medicine Hat Tigers skates against the Kelowna Rockets for his first WHL career game at Prospera Place on November 8, 2019 in Kelowna, Canada. (Photo by Marissa Baecker/Shoot the Breeze)Patton played on the fourth line with Baxter Anderson and Caleb Willms during his WHL debut and the Tabbies won 8-5. During the game, he credits Willms, as well as, Elijah Brown for helping him out during the game by talking to him and encouraging him. While his nerves were high before the game, he sat beside goaltender Mads Søgaard in the locker room who made him feel comfortable and helped take the nerves away.
"Teague is a crafty playmaker with good offensive imagination. He's a skilled puck possession guy that handles the puck very well," said Bobby Fox, Director of Player Personnel.
The 16-year-old Kelowna, BC forward was listed by the Tigers in the summer of 2019 and he signed with the team during their training camp that fall.
"When I was first listed by the Tigers last summer, I was very excited and honoured to be a part of such a first class and well known organization. Over that summer after I got listed, I had my mindset on getting signed at camp and making the roster," said Patton. "At camp, it was very exciting, fun and nerve racking. I loved getting to know some of the guys, seeing the gorgeous facility and meeting the staff members. They made me feel welcome and at home which helped me perform to the best of my abilities. I met my goals and signed on the last day of camp which was very surreal for me and my family who were all there to support me."
In December, Patton was invited to Medicine Hat to train and practice with the team so he could become accustomed to the team culture and learn what it will take to make the team. One of his biggest takeaways from the experience is how much hard work is integral to the success of the team.
"How hard everyone worked, the dedication and hours everyone puts in to be the best they can be and the best the team can be were my biggest takeaways. Everyone bought into the system and you could really see that they were a tight knit group. Seeing everyone work together like the training staff having everything ready for the players so they can be at their best was very impressive. Being there for a couple of weeks showed me how hard I have to work and really commit my life to hockey," said Patton.
While Patton was able to get his first taste of WHL action, he also has the support of his family to him guide him in his hockey career. Patton is cousins with former NHLer Josh Gorges and his other cousin Mark Smith played in the WHL and professionally. Another mentor for Patton is his stepdad, Evan Marble, who is a veteran of 274 WHL games, 70 of which he played for the Tabbies during the 1991-92 season. Marble also played professionally in Europe.
"Evan has helped me a lot. He tells me to always stay positive and that hard work can take you anywhere. He always says being a good person and a character guy is key. He has helped me with that a lot during my career," said Patton.
Patton has played the last two seasons with the Okanagan Rockets U18 AAA team. During the 2018-19 season, he collected 27 points (10G, 17A) in 35 games while adding four points (1G, 3A) in four games during the playoffs. This past year, he collected 49 points (15G, 34A) in 35 games with the Rockets.
"The past two seasons with the Rockets have been very fun a lot of hard work. I worked on being more of a team player and a harder worker on and off the ice. We had a very good team this year with a great group of guys and we were planning on going very far in the playoffs as we finished first in our league. I developed as a player and a person during my midget career that will help me down the road," said Patton.
During this extended offseason, Patton has been working out six or seven times a week at Prime Fitness in Kelowna. He has been focusing on increasing his leg strength and his quickness as he wants to develop his speed so he can be a lot faster at the next level.
He also likes to toss the football around with his friends, play baseball and volleyball with his family and friends, and he likes to surf.
• Discuss this story on the Western Hockey League message board...


Western Hockey League Stories from July 24, 2020
The opinions expressed in this release are those of the organization issuing it, and do not necessarily reflect the thoughts or opinions of OurSports Central or its staff.
Other Recent Medicine Hat Tigers Stories