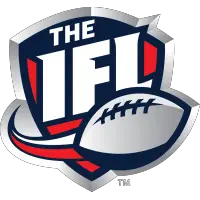 IFL Announces 2022 All-Rookie Team
August 3, 2022 - Indoor Football League (IFL) News Release



The Indoor Football League is pleased to announce the 2022 All-Rookie Team selections.
18 different players were selected to the All-IFL Second Team for the 2022 season. The voting was compiled from representatives from each IFL team to recognize the IFL's best rookies from the 2022 regular season.
The Quad City Steamwheelers had the most players represented with three making the list.
The complete list of All-Rookie honorees is as follows below.
OFFENSE
QUARTERBACK - Ramone Atkins, Duke City Gladiators
Atkins completed 58.5% of his attempts totaling 2,169 yards and 50 touchdowns. He also ran for 311 yards and 15 touchdowns. Atkins led the Gladiators to the playoffs.
RUNNING BACK - Antonio Wimbush, Iowa Barnstormers
In his rookie campaign, Wimbush averaged 4.2 yards per carry for a total 629 yards and 19 touchdowns.
WIDE RECEIVER - Jerminic Smith, Frisco Fighters
Smith was a consistent target for the Fighters this season where he finished among the league leaders with 63 receptions (6th) for 890 yards (3rd) and 19 touchdowns (5th).
WIDE RECEIVER - Quentin Randolph, Northern Arizona Wranglers
Randolph had a stellar inaugural season. He finished the regular season with 42 total receptions, gaining 536 yards and 13 touchdowns.
WIDE RECEIVER - Jordan McCray, Vegas Knight Hawks
The future of the wide receiver position is bright in Vegas. Knight Hawk Rookie, Jordan McCray, tallied 47 receptions for 447 yards and 13 touchdowns.
CENTER - Hunter Nobbs, Quad City Steamwheelers
Nobbs was the center piece of the offensive line for the Steamwheelers who finished third in rushing with 1,651 yards and 48 touchdowns.
OFFENSIVE LINE - Jamarcus Means, Tucson Sugar Skulls
Means helped lead the Sugars Skulls to a 9-8 record, good for a 3rd place finish in the Western Conference and a playoff berth.
OFFENSIVE LINE - Joe Krall, Quad City Steamwheelers
The O-line in Quad City looks to be set for a long while. With two of the three All-Rookie linemen fronting the Steamwheelers.
DEFENSE
Defensive Line - JaQuan Artis, Northern Arizona Wranglers
Artis ended his 2022 campaign leading the league in total sacks with 9.5 and tackles for loss with 17.5. Artis was a three-time Player of the Week honoree.
DEFENSIVE LINE - Undraez Lilly, Sioux Falls Storm
Lilly ended his rookie season eighth in total tackles for loss (14.5) and tied for first in the league for sacks (9.5).
DEFENSIVE LINE - Jimmy Thomas, Duke City Gladiators
Thomas was a force off the edge. His rookie campaign ended with 11.5 tackles for loss, 5.5 sacks (8th) and two Forced Fumbles.
LINEBACKER - James Brown, Green Bay Blizzard
It's hard to believe James Brown is a rookie. He was 2nd in the league with 96 tackles and 7th in the league with 14.5 tackles for loss. Brown also added four sacks and two interceptions.
Linebacker / DEFENSIVE BACK - Nathan Sheets, Quad City Steamwheelers
Quad City has some impressive YOUNG players. Their third addition to the All-Rookie Team is Nathan Sheets. Sheets led the league in tackles with 97.5.
DEFENSIVE BACK - Defensive Back - Kyree Woods, Arizona Rattlers
Woods finished the season leading the league in interceptions with nine picks and passes defended with 34.
DEFENSIVE BACK - JR Stevens, Iowa Barnstormers
Stevens proved to be a star on the Iowa Defense. He racked up a total of 13 passes defended (8th) and six interceptions (3rd) during the season.
DEFENSIVE BACK - Jacobi Taylor, Arizona Rattlers
Taylor came on strong in the latter half of the season and was a force in the backfield.
SPECIAL TEAMS
KICKER - Nick Jaworski, Green Bay Blizzard
Jaworski converted 17 field goals on the year, which is good for 3rd in the league.
KICK RETURNER - Benjamin Jones, Tucson Sugar Skulls
Jones led the league in kickoff returns with 57 attempts and yards per return with 17.4. He racked up a total of 1,120 return yards and took three back for touchdowns. His longest return recorded was 55 yards.
• Discuss this story on the Indoor Football League message board...


Indoor Football League Stories from August 3, 2022
The opinions expressed in this release are those of the organization issuing it, and do not necessarily reflect the thoughts or opinions of OurSports Central or its staff.