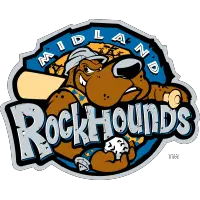 Hounds Top Arkansas, One Win Away from Postseason
June 16, 2019 - Texas League (TL) - Midland RockHounds News Release



On Thursday, June 6, the RockHounds opened a four-game series against first-place Frisco at Security Bank Ballpark. The club was four-and-a-half games behind the RoughRiders, in fourth place in the Texas League South Division, and with just 11 games remaining in the first half pennant race.
Fast forward to Saturday night (June 15) and, following 6-3 win over Arkansas, the RockHounds are one win away from a first half pennant in the Texas League South Division.
With Frisco's loss (see below), the 'Hounds hold a game-and-a-half lead over the RoughRiders and Amarillo after a second straight over the league's top club at Dickey-Stephens Park in North Little Rock.
As they did Friday, the 'Hounds jumped to an early lead, scoring three runs in the top of the second. Dairon Blanco opened the inning with a single and his 18th stolen base of the season, scoring the game's first run on Greg Deichmann's double. Collin Theroux drew a walk and some aggressive base running then helped the 'Hounds score two more. Both runners moved up on Edwin Diaz's fly ball to deep left and both advanced again on Kevin Merrell's sacrifice fly to right (just deep enough to score Deichmann). Theroux then scored on Brallan Perez's single up the middle (whether he would have scored from second is questionable, so advancing on both fly balls really set the table).
Arkansas rallied back with a two-run single from Donnie Walton in the fifth, cutting the 'Hounds' lead to 3-2.
Luis Barrera's one-out triple in the seventh (his league-leading 10th three-bagger) was followed by Mikey White's RBI single ... a walk to Tyler Ramirez ... a wild pitch ... and a two-run single from Blanco, pushing the led to 6-2.
Starter James Naile pitched into the seventh before giving up a pair of leadoff walks. Cody Stull came in and was greeted by Walton's single down the third base line. Diaz made a terrific stop, limiting Walton to a single, loading the bases. Jake Fraley's sacrifice fly drove in a run, but Stull got the next two batters to end the rally.
Jesus Zambrano and Kyle Finnegan pitched the eighth and ninth, respectively, to slam the door, with Finnegan earning his ninth save in 11 opportunities.
The win was the RockHounds' ninth in their last 11 games and clinched the three-game series against the first half North Division champion Travelers.
The Pennant Race
Frisco lost (9-4) at home to NW Arkansas ... Corpus Christi fell, 6-2, at Springfield ... and the Sod Poodles beat Tulsa, 11-6, at Amarillo.
The RockHounds (34-33) lead Frisco (33-35) and Amarillo (32-34) each by a game-and-a-half and Corpus Christi (32-35) by two.
AMAZING: All four teams remain in contention with just TWO games to play.
There are two games remaining in the half. The RockHounds are at Arkansas Sunday (2:10 p.m.) before returning home to host the Springfield Cardinals Monday evening (6:30) at Security Bank Ballpark.
Notables
Mikey White went 2-for-5 (he is 6-for-9 plus a walk in the series) and has hit in six straight games (11-26, .423). His RBI single in the seventh made him the first RockHound hitter with 40 RBI this season (Dairon Blanco's two-run single brings him to 39).
Luis Barrera (1-for-5, triple, run) has reached base in 16 straight games (27-70, .386) and has hits in 10-of-11 games (19-52, .365). His 10 triples not only lead the league ... they are five shy of the all-time franchise single season record of 15. Luis has tripled FOUR times in the last nine games and White, the next batter up, has driven him in each time. After a scoring change (and a correct one, without a doubt), Luis had a four-hit game in Friday's series opener (that change is reflected in the stats, above).
Brallan Perez (2-for-4, RBI) has reached base in 11 straight games (18-41, .439) and has hits in 8-of-9 (16-32, .500) with five runs, three doubles, a triple, a HR and five RBI.
Greg Deichmann (1-for-4, double, run, RBI) has hits in seven straight games (10-30, .333) with seven runs, two doubles, a triple, a HR, five RBI and three steals).
Kevin Merrell (1-for-3 on a gorgeous drag bunt single, RBI) has hits in six straight games (10-24, .417) with six runs, two doubles and four RBI.
Facing the Texas League's top pitching staff, the RockHounds have 28 hits ... and 23 strikeouts ... through the first two games of the series.
The 'Hounds have plated 13 runs, while scoring in just four innings, and have done it with "fast starts." On Friday, the first five batters of the game ... and the first two in the eighth ... scored. Saturday, the first three men up in the second inning scored and three-in-a-row scored after one out in the seventh.
Next Game
Sunday, June 16 vs. Arkansas Travelers
Dickey-Stephens Park North Little Rock, Arkansas
First pitch 2:10 p.m.
- Final of a three-game series and of a six-game road trip
- Radio: NewsTalk 550 with Bob Hards ... airtime 2:00 p.m.
Probable Starters
ARK: Darren McCaughan (RH, 5-3, 2.70)
RH: Bryan Howard (RH, 5-3, 3.11)
• Discuss this story on the Texas League message board...


Texas League Stories from June 16, 2019
The opinions expressed in this release are those of the organization issuing it, and do not necessarily reflect the thoughts or opinions of OurSports Central or its staff.