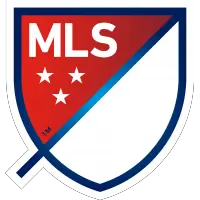 Hablando Con Dénis Bouanaga: "It's a Great Opportunity to Add Another Entry on the Club's Roll of Honor, and I Really Hope That We Will Do It."
May 30, 2023 - Major League Soccer (MLS) News Release



Upon his arrival to the Los Angeles Football Club (LAFC) in 2022, Gabonese striker Dénis Bouanga quickly became an impact player for the club managed by Steve Cherundolo. Just six games into his MLS career, Bouanga crafted a lasting memory for the club, securing the 2022 Supporters' Shield with his first career MLS goal in the 95th minute against the Portland Timbers. The forward continued to build on his legacy, adding two goals in the 2022 Audi MLS Cup Playoffs, and played an integral role in helping LAFC lift the 2022 MLS Cup in front of their home crowd in one of the most dramatic finals in MLS history against the Philadelphia Union.
This season, Bouanga has been one of the league's premier players and he leads the Golden Boot presented by Audi race with 10 goals in just 12 MLS matches. In addition to his sensational play in league action, Bouanga has been the key catalyst in LAFC's run to the Concacaf Champions League final, leading all scorers in the competition with six goals. He will look to continue his tremendous run as LAFC takes on Liga MX's Club León in the CCL final, beginning tomorrow, May 31, at Estadio León (10 p.m. ET, FS1 / TUDN). The second leg will be on Sunday, June 4 (9 p.m. ET, FS1 / TUDN) at BMO Stadium, with a position in the FIFA Club World Cup on the line.
Led by Bouanga, LAFC currently sits in third place in the Western Conference, accumulating 25 points in just 12 matches, and will look to continue their strong run of play in both league and international play this week.
First Leg of the Concacaf Champions League: Club León vs. LAFC (Wednesday, May 31, 10 p.m. ET / TUDN / FS1 / One Soccer)
Second Leg of the Concacaf Champions League: LAFC vs. Club León (Sunday, June 4, 9 p.m. ET / TUDN / FS1 / One Soccer)Hablando Con Series...
Can you talk to us about the day earlier this season where you left the Gabon National team and traveled back to play for LAFC, eventually scoring the winning goal?
It was a special day. I spent the whole day on the plane, and hours at the airport. Then, I connect to the Wi-Fi on my phone and I see a message from our head coach asking if it was possible for me to play in the game. Because I love soccer and I love helping the team, I said yes. Thereupon arrives that moment when I entered the game and I scored that goal. That day was really beautiful... and very, very long!
You've been a player who's scored in big moments, including the goal against the Portland Timbers last season which led to the Supporters' Shield title. What can you tell us about those moments so far in your MLS career?
I was really pleased to have scored my first goal in Portland. I was expecting it, and I think it happened at the right time. That goal triggered a lot of things.
This season, LAFC went unbeaten for 11 matches at the start of the season. How has head coach Steve Cherundolo and his leadership shaped the culture that's been created at LAFC?
We kept the momentum after winning the MLS Cup and added a lot of reinforcements. It is easy to work with this staff that gives us plenty of solutions. You immediately see the results.
This year, the club will play its second Concacaf Champions League final against Club León. What are your thoughts regarding that final and the potential of earning an spot in the FIFA Club World Cup?
It's a great opportunity to add another entry on the club's roll of honor, and I really hope that we will do it. We prepare every day to achieve that victory.
What do you know about León?
I watched them against Tigres, where my good friend André-Pierre Gignac plays. It's a good footballing team. It won't be an easy game. We must, like we do in MLS, provide ourselves with the opportunities to give a good show at home.
Knowing that the second leg of the final is at home, how is having the fans behind you a factor in your match performance?
Here, as I was able to experience during the MLS Cup final, "the twelfth man" really is the full stadium. Without them, I believe that a lot of people would have given up. Everybody gives everything, and even more, when the fans cheer for us. It will be a nice game and I hope that the stadium will be full once again to help us beating León at home.
What will be the keys for LAFC to win over León in the final?
Just giving 200% of ourselves for the fans but also our families who, I believe, will be in the stands. Let's do as we always do: play our soccer and score as soon as possible.
When you speak about "our soccer", what do you mean exactly?
Performing in both penalty areas, as well as defending as while attacking. We are a good defending team. We don't allow a lot of goals and we score often. I think that it is our trademark. We have a lot of players with an attacking mindset, but also a good defensive balance with very good players. That mix makes me believe that we can perform, especially in that final.
The CCL final will be a match between an MLS team and a LIGA MX team. What do you think about the rivalry between both leagues?
To be honest, I don't really have an opinion. I will just start that game like any other final, give everything, and the whole team will also play at its best. I don't really have an opinion, but I look forward to playing it.
Are you excited by the idea of facing LIGA MX opponents in Leagues Cup? Do you think that this rivalry can be exciting?
Yes, it can be really exciting! I look forward to playing those games and to start a new competition. I am starving for matches, for games against new teams and, for performing well against some of them.
What is your relationship like with LAFC goalkeeper Maxime Crepeau? I know he has helped translate for you in the past. Has that made you two closer?
That really made us closer. Fortunately, he was there at certain times to tell me what to do and what not to do. He really trusted me. He knows what I am capable of. Thanks to him, I am in the position I am today.
How important is family to you and what has it been like moving from France to Los Angeles?
It was kind of a shock to leave my whole family in France, especially my parents. But I left with my wife and my two children, who make me stronger today. Seeing them really happy pleases me a lot. Seeing them at the stadium and close to the field is also heartwarming. That's why I always give everything for the club.
After your start to the season, have your individual goals changed? Would you like to win MVP or the MLS Golden Boot?
No, not really. In each game, I just try to perform, to score, to give the assist, and to simply be decisive. That being said, I've been regularly told that I could win MVP or the MLS Golden Boot, to which, yes, I am flattered. However, I keep both feet on the ground, and I try to work hard to become that player.
• Discuss this story on the Major League Soccer message board...


Major League Soccer Stories from May 30, 2023
The opinions expressed in this release are those of the organization issuing it, and do not necessarily reflect the thoughts or opinions of OurSports Central or its staff.