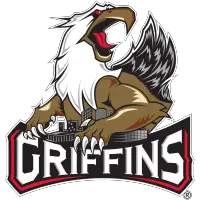 Griffins Cling to Playoff Hopes Entering Season's Final Week
April 4, 2011 - American Hockey League (AHL) - Grand Rapids Griffins News Release



Still Fighting: Grand Rapids' last hope for qualifying for the Calder Cup Playoffs is claiming fourth place in the North Division and fending off all potential crossover candidates from the West Division. Entering the final week of the regular season, the Griffins currently sit in sixth in the North with 80 points, one point behind fifth-place Toronto (81) and two in back of fourth-place Abbotsford (82). However, any one of three teams from the West "" Oklahoma City (87), Chicago (86) and San Antonio (85) "" is poised to claim that berth instead.
Breaking it Down: To maintain any chance of making the playoffs, the Griffins must win each of their final four games and hope Oklahoma City loses each of its last three. The earliest Grand Rapids can clinch is Sunday's season finale in Milwaukee, while the earliest it could be eliminated is Tuesday, with a San Antonio win over Rockford (since San Antonio and Oklahoma City play each other on Friday).
Fun at the Van: Fri. vs. ABB - For the Griffins' regular season home finale, promotions include Dollar Beers, Dollar Dogs from 6-8 p.m. (while supplies last), College Night and the D-Zone. The Griffins will wear their special Friday jerseys, which will be signed by the respective players and auctioned off following the game in the Fifth Third Bank Vault. In addition, several other themed jerseys from throughout the season will be included in the auction.
Packing the House: The Griffins, whose average attendance of 7,149 ranks fifth out of 30 AHL teams, are guaranteed to finish with an attendance increase for the fourth time in the last five seasons. Heading into this Friday's home finale at Van Andel Arena, their attendance of 278,812 is just 1,815 shy of last season's total. An anticipated sellout for the final home game would give the Griffins a 3.2% attendance increase over last season, and the season-long figure of 289,646 would mark their second-largest in 10 seasons of AHL membership (297,905 in 2008-09).
Twist of Fate: The Griffins' five straight losses match the number of regulation losses they had suffered in their previous 22 games combined (13-5-1-3 from Feb. 4 to March 20). It marks the team's longest winless streak since it dropped seven consecutive games in regulation from Jan. 17-Feb. 3, 2010.
Ironman Between the Pipes: Rookie goalie Jordan Pearce's run of 20 consecutive starts for Grand Rapids (12-5-1-2 from Feb. 16-March 26) ended on Friday in Abbotsford, just four starts shy of the franchise record set by Joey MacDonald from Feb. 25-April 9, 2005. Pearce, who nonetheless entered the game in relief in the third period, allowed just one goal in four periods of action against the Heat over the weekend, stopping 41 of 42 shots for a 0.76 GAA and a 0.976 save percentage. He has now played in 22 straight contests and in 29 of the Griffins' last 30 games, and he sits in 10th place on the franchise's all-time list with 20 career wins.
Smith Named to AHL All-Rookie Team: Defenseman Brendan Smith last Wednesday was named to the 2010-11 AHL All-Rookie Team. Smith, 22, ranks among the AHL's top defensemen with 12 goals (1st among rookies, T7th overall) and 32 points (5th rookies, T29th overall) through 59 games. Despite having missed 17 games due to injuries, he stands among the Griffins' leaders in goals (1st defensemen, 7th overall), assists (20 "" 2nd defensemen, 9th overall), points (2nd defensemen, 10th overall), plus/minus (plus-8 "" 3rd defensemen, 5th overall), penalty minutes (117 "" 2nd defensemen, 3rd overall), power play goals (five "" 1st defensemen, T4th overall) and game-winning goals (four "" 1st defensemen, T1st overall). In Grand Rapids history, only two rookie defensemen have registered more points than Smith's 32, and both are currently playing in the NHL: Florida's Clay Wilson (37 in 2005-06) and Colorado's Kyle Quincey (33 in 2005-06). Overall, Smith's point total ties for the 12th-highest ever by a Griffins rookie. The Mimico, Ontario, native becomes the third Griffin to be named to an AHL All-Rookie Team, joining current Detroit Red Wings Justin Abdelkader (2008-09) and Jimmy Howard (2005-06). This marks the second significant AHL honor for Smith this season, who became the first rookie defenseman in Griffins history to be chosen for an all-star game. However, he was forced to miss the 2011 AHL All-Star Classic due to injury. Smith is now a top candidate for the AHL's Dudley (Red) Garrett Memorial Award (outstanding rookie), the winner of which will be announced on Thursday.
Another AHL Award Candidate: The Griffins' Man of the Year, Greg Amadio, is eligible for the AHL's league-wide honor, the Yanick Dupre Memorial Award, which will be announced on Wednesday.
Among the Best: Francis Pare is the only Griffin to have appeared in all 76 games thus far, giving him a chance to join 18 previous Griffins who played in every game of a regular season. In addition, his seven first goals already tie for eighth on the team's single-season list...With 10 power play goals, Jamie Tardif needs one more to break into the Griffins' single-season top-10. His three shorthanded goals also tie for fifth all time.
Instant Impact: Forward Gustav Nyquist, the Red Wings' third choice (121st overall) in the 2008 NHL Entry Draft, registered a point in each of his first three games with the Griffins (1-2""3) prior to Grand Rapids' 1-0 loss in Abbotsford on Saturday.
Welcome to the Club: The Griffins on Monday signed goaltender Petr Mrazek to an amateur tryout. In addition, the Red Wings reassigned right wing Willie Coetzee and defenseman Sebastien Piche to Grand Rapids from the ECHL's Toledo Walleye. Mrazek, a 19-year old native of Ostrava, Czech Republic, recently concluded his second campaign with the Ontario Hockey League's Ottawa 67's, where he posted a 33-15-3 record with a 2.84 GAA and four shutouts in 52 games. Detroit's fifth choice (141st overall) in the 2010 NHL Entry Draft, he led the OHL with a 0.920 save percentage this season and ranked among the league's leaders in GAA (5th), wins (3rd) and shutouts (T2nd). Coetzee, 20, has played in 36 games for Toledo this season, showing 20 points (9-11""20), four penalty minutes and a minus-2 rating. The Maple Ridge, B.C., native has also logged 25 contests with the Griffins during his rookie campaign, earning five assists, eight PIM and a minus-7 rating. Piche, 23, has spent the majority of his sophomore pro season with the Walleye, appearing in 48 games. He ranked among the top ECHL blueliners this season with 12 goals (T4th) and 33 points (T10th), while finishing second among Walleye defensemen in points and ranking among the team's overall leaders in goals (T6th), assists (21, 8th), points (9th) and power play tallies (8, 2nd). A native of La Sarre, Quebec, Piche also shows two assists and 13 PIM in 11 contests with the Griffins.
Milestones: Derek Meech currently stands in fifth place on the Griffins' all-time games played list with 301, just one behind fourth-place Ryan Oulahen (302)...Francis Pare has 77 helpers for his Grand Rapids career to tie him with teammate Cory Emmerton for ninth on the franchise's all-time list.
Closing In: Already the Griffins' leader with 236 games as head coach, Curt Fraser is closing in on a prestigious franchise record. With an all-time record of 112-95-11-18 (0.536), he has passed Greg Ireland (109) for second place on the team's wins list and now stands just four victories shy of tying leader Danton Cole (116).
Scouting Report
Wed., April 6 at Milwaukee Admirals (42-20-6-8) "" Bradley Center "" 8 p.m.
Sun., April 10 at Milwaukee Admirals "" Bradley Center "" 6 p.m.
Radio: ESPN 96.1 FM at 7:45 p.m. (Wed.) and 5:45 p.m. (Sun.). Web Casts: Video web cast at AHLLive.com, free audio available through griffinshockey.com. All-Time Series: 53-40-7-5-5 Overall, 22-22-5-4-3 Road. Season Series: 2-3-0-1 Overall, 1-1-0-0 Road. Seventh and eighth of eight meetings overall, third and fourth of four in Milwaukee. NHL Affiliation: Nashville Predators. Head Coach: Lane Lambert (4th season). Notes: Following consecutive wins over Milwaukee in December, the Griffins have lost their last two meetings with the Admirals by a combined 11-3 score (2-6 in GR on Feb. 5, 1-5 in MIL on Jan. 6)...The Admirals lead the West Division and Western Conference with 98 points, just two more than Houston...Mark Dekanich ranks third in the AHL with a 2.02 GAA and first with a 0.931 save percentage... Milwaukee is the second-least penalized team in the AHL (13.29 PIM per game).
Fri., April 8 vs. Abbotsford Heat (36-29-4-6) "" Van Andel Arena "" 7 p.m.
Radio: ESPN 96.1 FM at 6:45 p.m. Web Casts: Video web cast at AHLLive.com, free audio available through griffinshockey.com. All-Time Series: 2-4-0-1 Overall, 2-0-0-1 Home. Season Series: 0-2-0-1 Overall, 0-0-0-1 Home. Fourth and final meeting overall, second and final in Grand Rapids. NHL Affiliation: Calgary Flames. Head Coach: Jim Playfair (2nd season). Notes: The Heat's two visits to Van Andel Arena this season are coming 182 days (26 weeks) apart, as they were the opponent for both the Griffins' season opener (Oct. 8) and home finale...Leland Irving, who made 22 saves in Saturday's 1-0 shutout of Grand Rapids, is 13th in the AHL with a 2.38 GAA and leads the circuit in minutes played (3198) and shootout wins (9)...Abbotsford's 11 shootout wins pace the league...The Heat rank 30th in goals scored per game (2.37) and 10th in goals allowed per game (2.68).
Sat., April 9 at Rockford IceHogs (34-33-4-5) "" Rockford MetroCentre "" 8:05 p.m.
Radio: ESPN 96.1 FM at 7:45 p.m. Web Casts: Video web cast at AHLLive.com, free audio available through griffinshockey.com. All-Time Series: 7-10-2-2 Overall, 2-5-2-1 Road. Season Series: 2-2-0-1 Overall, 0-2-0-0 Road. Sixth and final meeting overall, third and final in Rockford. NHL Affiliation: Chicago Blackhawks. Head Coach: Bill Peters (3rd season). Notes: Following a 6-0 loss at Rockford on Jan. 8, the Griffins have responded with consecutive series wins at Van Andel Arena (5-3 on March 20, 5-2 on Jan. 28)...Dating to last season, Grand Rapids has lost five straight games at the Rockford MetroCentre (0-4-1-0), where the IceHogs have earned points in seven consecutive meetings with the Griffins (6-0-0-1). Grand Rapids' last win there was on Jan. 2, 1010 (5-4 SO), and its last regulation win was on Jan. 17, 2009...The IceHogs sit in eighth place in the West Division, eight points behind seventh-place San Antonio, but are finishing strong with wins in six of their last seven games.
• Discuss this story on the American Hockey League message board...


American Hockey League Stories from April 4, 2011
The opinions expressed in this release are those of the organization issuing it, and do not necessarily reflect the thoughts or opinions of OurSports Central or its staff.