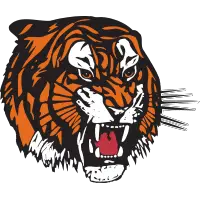 Gameday Preview - February 18 at Swift Current
February 18, 2022 - Western Hockey League (WHL) - Medicine Hat Tigers News Release



VS SWIFT CURRENT: This is the fifth of eight meetings this season between the Tigers and the Swift Current Broncos. Swift Current and Medicine Hat met four times in the first 36 days of the 2021-22 season, both clubs are vastly different than the last time these two clubs met. The Tigers trail in the season series with a record of 1-3-0-0, with the last game being a 3-2 loss to the Broncos in Swift Current. The Broncos have a record of a 17-24-5-1 which puts them fifth in the Central Division and ninth in the Eastern Conference. Matthew Ward leads the Broncos in scoring with 15 goals and 27 assists.
2021-21 WHL RANKINGS:
Record (9-30-3-1)
Home (6-14-1-0) Central Division - 6th
Away (3-16-2-1) Eastern Conference - 12th
VS CENTRAL DIVISION: The Tigers have a 6-16-1-0 record vs Central Division opponents.
VS EAST DIVISION: The Tigers have a 3-14-2-1 record vs East Division opponents.
LAST GAME: The Tigers welcomed the Brandon Wheat Kings to Co-op Place on Wednesday night. Garin Bjorklund stood tall most of the night stopping 37 shots including multiple highlight reel saves, earning him 2nd Star honours. Teague Patton got the lone marker for the Tigers in the first period. That was the Kelowna, BC native's ninth goal of the campaign. The game stayed tied at one until part way into the third period when the Wheat Kings were able to get one passed Bjorklund. Brandon would add two more, including an empty netter to come away with a 4-1 win.
MILESTONES: Tigers Captain Daniel Baker played in his 200th career WHL game on January 21st in Saskatoon. Owen MacNeil appeared in his 100th career WHL game vs the Prince Albert Raiders the following night. Rhett Parsons, Oren Shtrom, Oasiz Wiesblatt, Tyler MacKenzie, Pavel Bocharov, Teague Patton and Brayden Boehm, Ashton Ferster and Reid Andresen have each recently played in their 50th career games.
PLAYER TO WATCH: TEAGUE PATTON was signed by the Tigers in 2019 and has since appeared in 62 games for the Orange and Black. The Kelowna, BC product is having a solid sophomore campaign with nine goals and five assists in 43 games this season, with two of those goals coming on the power play. Patton's confidence has continued to grow throughout the season, with goals coming in two of his last three games and registering a point in six of his last 10. The speedy forward sees the ice well, has a solid shot and isn't afraid to play hard in the dirty areas.
CLUB LEADERS LEADING SCORERS:
- Goals Logan Barlage (12) - Daniel Baker 5G, 19A, 24 PTS
- Assists Daniel Baker (19) - Logan Barlage 12G, 11A, 23 PTS
- Points Daniel Baker (24) - Noah Danielson 10G, 10A, 20 PTS
- PIMs Rhett Parsons (83) - Oasiz Wiesblatt 8G, 12A, 20 PTS
- Plus/Minus Oren Shtrom (-3) - Tyler MacKenzie 2G, 18A, 20 PTS
- Wins Garin Bjorklund (6) - Brendan Lee 8G, 11A, 19 PTS
ROOKIE LEADERS - Bogdans Hodass 3G, 16A, 19 PTS
- Goals Bogdans Hodass (3) - Owen MacNeil 6G, 12A, 18 PTS
- Assists Bogdans Hodass (16) - Ashton Ferster 8G, 7A, 15 PTS
- Points Bogdans Hodass (19) - Oren Shtrom 7G, 8A, 15 PTS
- PIMs Bogdans Hodass (27) - Teague Patton 9G, 5A, 14 PTS
- Plus/Minus Steven Arp (-5) - Brayden Boehm 5G, 9A, 14 PTS
SPECIAL TEAMS:
POWER PLAY: 29 / 150 - 19.3% - 14th
PENALTY KILL: 141 / 187- 75.4% - 19th
TIGERS ROSTER MAKEUP: The Tigers have 23 players on the roster - 2 Goaltenders, 7 Defencemen and 15 Forwards, including 7 rookies
AGE BREAKDOWN: 3 - 20-year-olds, 3 - 19-year-olds, 8 - 18-year-olds, 6 - 17-year-olds, 3 - 16-year-olds
NHL DRAFTED / SIGNED PLAYERS: Garin Bjorklund (Washington Capitals), Dru Krebs (Washington Capitals)
TIGERS SCHEDULE:
LAST FIVE: RESULTS: NEXT FIVE: TIME:
vs Brandon 4-1 Loss vs Lethbridge, Sat, Feb 19 7:00 PM (MST)
vs Edmonton 5-3 Loss vs Prince Albert, Mon, Feb 21 2:00 PM (MST)
vs Moose Jaw 5-2 Loss @ Regina, Wed, Feb 23 6:00 PM (MST)
@ Edmonton 6-2 Loss vs Winnipeg, Fri, Feb 25 7:00 PM (MST)
vs Red Deer 3-2 WIN @ Lethbridge, Sat, Feb 26 7:00 PM (MST)
• Discuss this story on the Western Hockey League message board...


Western Hockey League Stories from February 18, 2022
The opinions expressed in this release are those of the organization issuing it, and do not necessarily reflect the thoughts or opinions of OurSports Central or its staff.
Other Recent Medicine Hat Tigers Stories