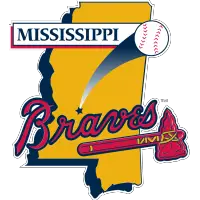 G-Braves Unveil Landmark 20th Year's Promotional Calendar
April 10, 2003 - Southern League (SL) - Mississippi Braves News Release



Recognized consistently as one of the more aggressive 'promotions-oriented' franchises in Minor League Baseball, The Greenville Braves have launched their 2003 promotional calendar, in honor of the franchise's 20th season, to be one of its most impressive yet.
"We made a conscious decision this year to invest more financially back into the entertainment side of our business," said G-Braves General Manager Steve DeSalvo, "We've always had lots of promotions for the fans. This year, we made a decision to 'turn things up a couple notches', so to speak, and deliver more of what fans have told us they want from us. Using the 20th year as a springboard to a new level of excitement, we see this as an opportunity to raise the bar moving forward for fans over the next couple years here in the community."
Among the standouts of fan favorites, Friday Night Fireworks are back, offering a spectacular fireworks display following all 13 Friday night home games. In addition, the popularity of last year's Chipper Jones bobble head doll giveaway prompted the club to set 4 bobble head doll nights in 2003, including Chipper Jones, Andruw Jones, John Smoltz, and a special Hank Aaron commemorative bobble head doll, expected to be a collector's favorite.
In addition, several major acts return, including the World Famous Blues Brothers, the Mayberry Deputy (Barney Fife look-alike), Birdzerk, Zooperstars, and other nationally known mascots. "In years past, we would look to either provide a heavy schedule of mascots and a lighter schedule of premium item giveaways and fireworks shows, or vice versa," said DeSalvo. "This year, we made the financial decision to offer fans all three...plus a few other surprises. Basically, we've stacked the deck."
In addition to the major promotional nights, recurring theme nights offer fans at least one, but in many cases multiple promotions any night at the ballpark. In cooperation with the SC Education Lottery, non-winning tickets get fans in all Mondays 2-for-1. Two-for Tuesdays return, with 2-for-1 admission as well as 2-for-1 on several food items. New to the schedule in 2003 is Wild & Wacky Wednesdays, and Sunday Family Fests return to round out the weekends. Several other promotions are in the process of being scheduled and will be added & released over the next couple weeks as well. For more information, see the G-Braves promotional calendar attached with this release, or visit www.gbraves.com.
The Greenville Braves have been an active member of the local community for almost 20 years, hosting special nights at the ballpark each season to benefit local charities and sponsoring several charity functions throughout the year. The G-Braves also offer many other successful children's programs including the Honor Roll Program, Pride in Carolinas Youth Reading Program, and the Gatti-Town Braves Buddies Club.
A member of the Southern League of Professional Baseball Clubs, the Greenville Braves are the Double A affiliate of the Atlanta Braves, and has sent more than 100 players to the major leagues. The Greenville Braves, the only franchise in minor league baseball to draw more than 200,000 fans per season for 19 consecutive years, celebrate its 20th season in Greenville in 2003.
• Discuss this story on the Southern League message board...


Southern League Stories from April 10, 2003
The opinions expressed in this release are those of the organization issuing it, and do not necessarily reflect the thoughts or opinions of OurSports Central or its staff.