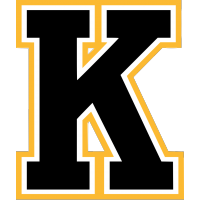 Frontenacs Reclaim East Division Lead with 5-4 Win over the Bulldogs
February 13, 2022 - Ontario Hockey League (OHL) - Kingston Frontenacs News Release



Pucks were shot around before the Super Bowl on Sunday afternoon as the Kingston Frontenacs (26-12-3-0) beat the Hamilton Bulldogs (25-11-2-2) by a score of 5-4. The two faced-off in a battle for first place in the tightly contested East Division standings. Leevi Meriläinen made 52 saves, second-star Gage Heyes scored his first OHL goal with Paul Ludwinski and Jordan Frasca each scored twice for Kingston. The Fronts moved back into first place in the East Division with the win.
First star Meriläinen got his 21st win in his 36th start for the Black and Gold facing Marco Costantini in Hamilton's net, who saw 34 shots. Heyes became the seventh Frontenac player to score their first career OHL goal this season.
First Period
It would be a tough period as both teams played physical with the visitors coming away with a one goal lead after twenty.
Lucas Edmonds had a great chance 20 seconds in as he got the puck past the Bulldog goaltender, but it trickled just wide of the goal as the Fronts came out with energy. Francesco Arcuri followed up the first chance and fired a shot off the post at 17:40.
Arcuri and Ben Roger were sent off with Avery Hayes and Ryan Humphrey as the pairs' tussled in the Kingston zone after a whistle in a heated game between the division rivals. Kingston got the first powerplay of the game seconds after the coincidental minors managing some zone time but were held out of grade-A chances.
Logan Morrison (18) opened the scoring on a quick shot over Meriläinen's glove after taking a nice feed from Humphrey. Hayes also assisted on the 1-0 goal at 6:54.
The Jordan Frasca, Edmonds, Arcuri line had three good chances midway through the frame, but Hamilton retook the momentum going up 2-0 at 10:41. Humphrey (12) buried a rebound off a slapshot from the circle that was initially saved by Meriläinen. A ricocheted puck came right to a streaking Humphrey, beating a diving Kingston goaltender. Morrison earned his second point of the game with Gavin White also assisting.
Gage Heyes made a nice hit on Hamilton's Giordano Biondi in Bulldogs zone as Kingston kept up the tempo. Paul Ludwinski (9) scored getting Kingston within one with 2:15 left in the period. After scooping a loose puck, the rookie elevated the biscuit up and over Costantini in the Hamilton cage. Zayde Wisdom and Shane Wright assisted on the goal.
Kingston had its second man advantage with 43 seconds left and took remaining time to the second period.
Second Period
The Fronts finished off the balance of the powerplay time from the first period narrowly avoiding a third Bulldog goal. Meriläinen made a two brilliant saves on shorthanded breakaways by Heyes before following up with a 10-bell glove save robbing Jan Mysak from point-blank range.
Hamilton took its third penalty shortly after the saves. Following a couple good chances early on the Kingston powerplay, they got a lucky break when Frasca (29) bounced a centering pass off a Hamilton defender tying the game 2-2 with Edmonds assisting and Wright earning a second straight multi-point game with a helper at 4:10.
Halfway through the frame Ludwinski (10) got his second of the game giving Kingston its first lead of afternoon. Wisdom got a second assist after the Philadelphia Flyers prospect made a good play to create the chance for the rookie who buried the rebound off the initial Wisdom shot to make it 3-2. Lucas Peric also earned an assist at 9:04.
Hamilton got on its first powerplay with seven minutes left but after good penalty killing by the Frontenacs, they would go back to the powerplay for a fourth time paid for it. It was 4-2 Kingston when Peric would have a point shot deflected in front by Frasca (30) for Kingston's second powerplay marker of the game. Frasca becomes the fifth player to hit the 30-goal mark in the OHL.
Kingston took a 15-2-3-0 record when leading after two periods to the second intermission.
Third Period
Meriläinen was spectacular in the game making 20 saves in the third period alone.
The Bulldogs got within one when Humphrey (13) scored his second firing a shot past a screened Meriläinen to make it 4-3 from Gavin White at 4:48.
A good glove save by Meriläinen on another breakaway chance by Hamilton was preceded by the Bulldogs getting back on a second powerplay of the game tying it up 4-4, just 67 seconds after the third visitor strike. A nice three-way passing play with Morrison and Ryan Winterton was finished off by Heyes (27) on the Bulldogs fifth consecutive and 43rd shot of the game on the Kingston net.
The Black and Gold continued to fight back as Gage Heyes (1) scored his first career OHL goal on the game-winning strike for Kingston making it 5-4 with under nine minutes left. The rookie beat Costantini straight up past his blocker from the faceoff circle with Ben Roger assisting at 12:29.
After a late timeout by head coach Luca Caputi, the Fronts were able to thwart off a late empty-net push by Hamilton and seal the win.
Hardest Worker of the Game
Zayde Wisdom (2A)
Three Star of the Game
Leevi Meriläinen - KGN (53 saves)
Gage Heyes - KGN (1st OHL goal - GWG)
Paul Ludwinski - KGN (2G)
Fronts Notes:
Lucas Edmonds tied 1st OHL assists (50), 4th points (71). No other top-10 scorers have fewer pim's (8)
Maddox Callens listed day-to-day
Martin Chromiak listed day-to-day
Matthew Soto day-to-day
Shane Wright has points in 10 of last 13 games (8G,13A)
Jordan Frasca Tied 4th in OHL goals (29) - 13 powerplay goals second-most in OHL.
Defenceman Tommy Budnick Birthday
Team Stat Pack - GP (41)
(26-12-3-0) 55 pts - 1st East Div
Leaders
Goals - Frasca (30), Arcuri (22), Edmonds (21)
Assists - Edmonds (50), Wright (33), Frasca, Chromiak (27)
Points - Edmonds (71), Frasca (57), Wright (52)
PIMs - Haché (52), Poole (40), Budnick (39)
Shots- Edmonds (187), Wright (141), Frasca (140)
Powerplay Points - Edmonds (25), Frasca, Wright (19),
Rookie Points - Ludwinski (26), Soto (21), Thibodeau (8)
Defence Points - Peric (23), Murray (22), Bélanger (11)
Plus/Minus - Frasca (+26), Arcuri, Murray (+19), Edmonds (18)
On The Front
The Frontenacs hit the road against Central Division Mississauga Steelheads on Wednesday night. The Black and Gold will return to the Limestone City on Friday, February 18, versus the Ottawa 67's.
Listen to all the action on 104.3 Fresh Radio with Frontenacs play-by-play voice Jim Gilchrist. Fans can also follow along with team social media channels at Twitter, Facebook and IG for updates. Watch the games on YourTV Kingston (channel 700) or on CHL TV/OHL Live.
• Discuss this story on the Ontario Hockey League message board...


Ontario Hockey League Stories from February 13, 2022
The opinions expressed in this release are those of the organization issuing it, and do not necessarily reflect the thoughts or opinions of OurSports Central or its staff.