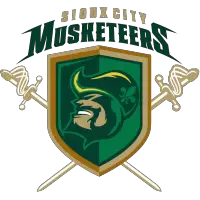 Ferner Returns to Sioux City
January 4, 2021 - United States Hockey League (USHL) - Sioux City Musketeers News Release



Brady Ferner never seriously pictured himself coaching hockey. He certainly didn't think that's how he'd be spending the 2020-21 season.
Instead he was planning on enjoying his junior year at Rensselaer Polytechnic Institute, playing defense for the Engineers' ice hockey team. But RPI was one of several programs to cancel their season due to the COVID-19 pandemic.
"A few months after getting back on campus the signs slowly started revealing themselves," recalled Ferner, "You didn't think it was going to happen but then once we got the official announcement it hit home."
Ferner played three seasons in the United States Hockey League, all in Sioux City. Once RPI's cancelation became official, he texted Musketeer head coach Luke Strand and the wheels were set in motion.
"Right away he texted me back and said I was more than welcome to come back and be able to train, lift and get my feet wet in coaching," said Ferner.
The Dakota Dunes native eagerly took him up on the offer. It gave him the opportunity to stay in shape psychically, with campus facilities still shut down, while opening a door for him that he hadn't considered.
"I love being around people, I love the game and I thought this was a great way to stay in it," Ferner continued "Seeing how the coaching staff here does things day-to-day has been really intriguing for me and it's something I'm excited to pursue once I'm done playing."
Ferner has been playing hockey since he knew how to skate but was surprised at how much he's learned in just two months on the other side of the bench.
"My perspective of the game has completely changed and I see it in a whole different manner now. It also changes how I view coaching. There's a lot that goes into it for these guys; the tactical things, developing skill level on the ice and being able to communicate with these guys during one of the most important times of their lives."
Ferner played for Coach Strand during the 2017-18 season, the first of Strand's second stint as Musketeers head coach. Now they're reuniting on the same side of the bench.
"He's an unbelievable influence," said Ferner of Strand, "Just the way he does things, he genuinely cares about his players and he wants nothing but the best for them."
And of course being able to come back and be part of his "home" team is something Ferner continues to cherish.
"Anytime I can come back and be part of the team and share my influence with the guys is really special. Look at this team, there's a lot of talent and there's a lot of great people in there too. It's great to see the locker room full of not only good hockey players but good people as well."
• Discuss this story on the United States Hockey League message board...


United States Hockey League Stories from January 4, 2021
The opinions expressed in this release are those of the organization issuing it, and do not necessarily reflect the thoughts or opinions of OurSports Central or its staff.