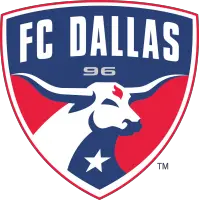 FC Dallas Defeats Seattle Sounders FC, 2-1
February 16, 2019 - Major League Soccer (MLS) - FC Dallas News Release



Tucson, Arizona - FC Dallas defeats Seattle Sounders 2-1 Saturday morning at Kino North Stadium with goals from Dominique Badji and Thomas Roberts.
First Half:
28'- Big chance for Ryan Hollingshead in the box but his shot goes right over the bar.
30'- Great rush out save by Jesse Gonzalez on a shot by Raul Ruidiaz to keep the score 0-0.
34'- Dominique Badji gives FC Dallas a 1-0 lead with a tap in from the six-yard box out of a quick touch from Michael Barrios.
Second Half:
47'- Dominique Badji inches away of tapping in 2-0 for FC Dallas, once again on a Michael Barrios cross.
57'- Jordan Morris' goal called offside after dribbling ball around Gonzalez and hitting the back of the net.
77'- Reaction save on the line by Stefan Frei on a physical header by Matt Hedges.
80'- Following a complete roster change, Thomas Roberts scores the second goal of the day with a distinct shot in the lower right corner.
90'- Nouhou scores between the legs of Jimmy Maurer on the last kick of the game.
Lineups:
FC Dallas - Jesse Gonzalez (Jimmy Maurer -78'); Ryan Hollingshead (Marquinhos Pedroso - 78'), Matt Hedges (Bressan - 78'), Reto Ziegler, Reggie Cannon; Carlos Gruezo, Jacori Hayes (Bryan Acosta -67'); Santiago Mosquera (Pablo Aránguiz - 78'), Paxton Pomykal (Thomas Roberts - 78'), Michael Barrios (Jesus Ferreira - 78'); Dominique Badji (Zdenek Ondrasek -78').
Seattle Sounders FC - Stefan Frei (Bryan Meredith - 78'); Kelvin Leerdam (Saad Abdul-Salaam- 64'), Chad Marshall (Jordy Delem - 78'), Kim Kee Hee (Jonathan Campbell - 78'), Brad Smith (Nouhou - 78'); Cristian Roldan (Danny Leyva - 78'), Gustav Svensson (Alex Roldan - 78'); Jordan Morris (Harry Shipp - 71'), Nico Lodeiro (Henry Wingo - 78'), Victor Rodríguez (Handwalla Bwana - 78'); Raul Ruidíaz (Will Bruin - 78').
Scoring Summary:
FCD: Dominique Badji (Michael Barrios, Santiago Mosquera) -33'
FCD: Thomas Roberts (Carlos Gruezo) - 80'
SEA: Nouhou (Henry Wingo) - 90'
Misconduct Summary:
FCD: Reto Ziegler (caution) -18'
FCD: Carlos Gruezo (caution) -21'
SEA: Nico Lodeiro (caution) -43'
SEA: Saad Abdul-Salaam (caution)- 65'
FCD: Bryan Acosta (caution) - 89'
Weather: Windy, 58
Referee: Ramy Touchan
Assistant Referees: Eduardo Marsical, Apolinar Marsical
4th Official: Robi Hullner
VAR: Victor Rivas
Head Coach Luchi Gonzalez
General thoughts on the match...
Good first steps. I think Seattle had a good rhythm at the beginning of the game. They've been here, this is their 11th or 12th day playing MLS opponents and they showed that at kickoff. It took us the first 5-10 minutes to adjust and to settle into the game. I felt once we caught our second wind technically and tactically, we got on the ball and were able to find spaces and players in the right positions to advance up the field and get numbers up. We were a better threat, we were in better positions to get the ball back, we were better in our pressure and we were able to get on the ball and try to dictate the game. To Seattle's credit, they're a good team with some great players and they're well coached, so it was a pleasure to play them.
• Discuss this story on the Major League Soccer message board...


Major League Soccer Stories from February 16, 2019
The opinions expressed in this release are those of the organization issuing it, and do not necessarily reflect the thoughts or opinions of OurSports Central or its staff.