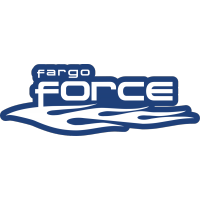 Fargo Force Announce 2022-23 Captains
September 29, 2022 - United States Hockey League (USHL) - Fargo Force News Release



Today, September 29, 2022 the Fargo Force announced the captains for the 2022-23 season. Kyle Smolen, heading into his 4th season with the Force will be the 15th captain in tea, history. He is accompanied by alternate captains, Cole Knuble, Bret Link, Joe Palodichuk and Jakob Stender. All 5 of this season's captains bring a veteran presence to the locker room with one or more years on the team already under their belt.
"We couldn't be more excited to announce the leadership group that will represent our organization during the 2022-2023 season," commented Head Coach Nick Oliver. "The strength of our team during our first month together has been the depth and quality of the leadership in our locker room, including those who don't wear letters. We're excited to see our group continue to grow together."
Kyle Smolen, from Crystal Lake, Illinois, was drafted by the Force with the 19th pick of the USHL Phase II Draft back in 2019. Smolen picked up eight goals and 17 assists for 25 points in 2021-22, and already has two assists in two games in 2022-23. Smolen served as Alternate Captain last season, his leadership both on and off the ice has and will continue to be a key factor the Force's success.
"Kyle is prepared to be an outstanding captain and leader for our team this season. He has great experience playing and leading in the USHL - he had an opportunity to wear a letter in Fargo last season. He's earned tremendous respect throughout our locker room and organization during his career in Fargo."
Cole Knuble, from East Grand Rapids, Michigan, was selected with the 57th pick in the 2020 USHL Phase I Draft. Knuble notched 20 goals and 29 assists in the 2021-22 season, finishing second on the team in points with 49. His standout rookie season earned him a spot on the USHL All-Rookie First Team and the title of Fargo Force Rookie of the Year. In his second season with the Force Knuble has been an impact player from the jump, currently leading the team in scoring with 2 goals and an assist for a 1.5PPG average.
"Cole is an extremely hard working and reliable person. His continued growth and development during his time in Fargo is an indicator of this. He sets a tremendous example for others to follow."
Bret Link, from Anchorage, Alaska, is heading into his second season with the Force. He led the team in points last season, picking up 20 goals and 30 assists in 61 games. His skill with the puck and elite scoring ability helped earn him the title of Fargo Force MVP and Outstanding Forward in the 2021-22 Season
"Bret sets a tone for our group on and off the ice. His drive to improve as a player pushes everybody around him to be better. He expects a lot out of himself and leads the right way daily."
Joe Palodichuk, from Cottage Grove, Minnesota, is also heading into his second season with the Force this year. The 2021-22 Force Defenseman of the Year tallied six goals and 19 assists over the course of 53 games in 2021-22 and has been a key player on the Force blue line already this season.
"Joe is a great example of how a competitor pushes himself and his teammates daily. He cares deeply about his teammates and this organization. He continues to elevate as a player and leader."
Jakob Stender, from Alexandria, Minnesota, rounds out the leadership group for the 2022-23 season. After picking up three goals and 18 assists in 2021-22, the defenseman already has a goal on the board through the season's first two games in 2022-23. The Minnesota State commit will look to use what he learned through his first year in Fargo in 2021-22 to build upon the already-great culture in the Force locker room.
Jakob leads by example with how he lives his life and the impact he has on the people around him. His continued development and competitive nature set a great tone for our group.
The Force head to Green Bay for a one-off game in Wisconsin on Friday, September 30 at 7:05 PM CT. Next Saturday, October 8, the Force are in Fargo for the 2022-23 Home Opener, visit www.fargoforce.com/tickets to purchase yours today!
• Discuss this story on the United States Hockey League message board...


United States Hockey League Stories from September 29, 2022
The opinions expressed in this release are those of the organization issuing it, and do not necessarily reflect the thoughts or opinions of OurSports Central or its staff.