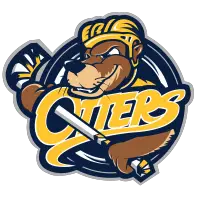 Erie Otters Draft Review: Otters Select 16 Players in Priority Selection
April 30, 2022 - Ontario Hockey League (OHL) - Erie Otters News Release



Erie, Pennsylvania - For the 27th time in team history, the Erie Otters participated in the Ontario Hockey League's Priority Selection Draft - looking for the next generation and crop of Otters prospects and players.
General Manager Dave Brown, Director of Hockey Operations Scott Grieve, and the Otters' Hockey Operations and Scouting Departments would make 16 total selections between Friday evening and Saturday afternoon.
Erie came into day one with the #2 overall pick, and two picks Round 2 - Sault Ste. Marie (#38 overall) and North Bay's (#41) 2nd Round picks. Erie acquired Sault Ste. Marie's 2022 2nd Round pick in January 2018 in exchange for Taylor Raddysh, Jordan Sambrook, while North Bay's 2022 2nd Round pick came earlier this week in a trade with Peterborough for future Otters' picks. The #2 overall selection was a result of being 'runners-up' in the inaugural OHL Top-Four Selection Lottery.
On Friday, Erie would use the 2nd overall pick on GTHL Player of the Year and Forward Malcolm Spence (Mississauga Senators U16 AAA), the 38th overall pick on Goaltender Jacob Gibbons (Markham Majors U16 AAA), and the 41st overall pick on Left Winger Logan Sawyer (Vaughan Kings U16 AAA) in the 2022 Ontario Hockey League Priority Selection Draft.
In his latest season in the GTHL, 2nd overall pick Spence had a two-point-per-game average season with 56 points (29G+27A) in 28 games. During the OHL Cup, Spence would grab an additional 13 points (6G+7A) in seven games enroute to the Senators' OHL Cup Championship - and being named to the OHL Cup All-Star Team.
"The number of where I'm being drafted doesn't really matter to me, it was about getting to the right place. For Erie to be where they were [in the Draft], it was a no-brainer for me and my family. It's such a historic organization with all the success it's had, and I'm just hoping that I can contribute to it and have more success." said Spence, "I'm excited to play for the amazing fans in Erie, and how historic the organization is - to play and wear that jersey is truly an honor. It's a dream come true."
Spence became the fourth GTHL Player of the Year to be selected by Erie (Jamie Drysdale (2018), fellow #2 pick Dylan Strome (2013), and Connor McDavid (2012).
"[Malcolm] was the guy from start-to-finish we had as the guy we wanted. We saw him early in the year, and we were excited about the opportunity of [him] being in the Draft." said Brown, "He plays a pro-style game, and we're just super excited to have him - not only his skill level, but his maturity and leadership that he brings off the ice. It's easy to talk about character, but it's even better when you know you've got it. He's lightyears above his age."
The #38 overall pick Gibbons, from Whitby, ON is a big-bodied, pro-size Goaltender measuring in at 6'4", 181 lbs. at 15-year-olds. Playing with the Markham Majors U16 AAA in the OHL Cup, Gibbons came away from four games played with a 1.54 GAA, .926 SV%, two shutouts, and a 3-1 record. Otters' Goaltending Scout Adrian Volpe liked a lot of what the young Goaltender had to offer.
"Jacob is a tall, athletic goaltender that reads plays well." said Volpe, "He has a high compete level with a ton of upside."
Sawyer, the #41 overall pick from Orangeville, ON joins the Otters as the last pick of day one, coming in from the Vaughan Kings U16 AAA. Measuring in at 6'0", 168 lbs., Sawyer was a point-plus-per-game scorer in the OHL Cup, grabbing seven points (2G+5A) in five games, with a +3 and just a single penalty. This comes after a point-plus-per-game regular season where the Forward grabbed 34 points (14G+20A) in 33 games.
"Logan is a high-energy player who uses his skill and size to create opportunities in the offensive zone. His high hockey IQ allows him to read and react in all three zones." said Grieve, "We're ecstatic to welcome Logan to the Otters organization."
Erie did not have a pick in Round 3, after trading its 2022 3rd Round pick to Barrie in January 2017 in exchange for Cameron Lizotte.
"We're thrilled. Adding a guy with Malcolm's caliber is a cherry on top, and then adding some goaltending depth with Jacob, and Logan on top of that, it's pretty exciting." said Grieve, "We're adding a group here of 06's."
On Saturday, Erie would add an additional 13 picks - seven Forwards and six Defenseman - to their 2022 Draft Class. In total, the Otters would draft three top 50 picks, nine Forwards, six Defenseman, and a goaltender. In the last two Draft Classes, Erie has had 10 players make it onto the Regular Season roster.
The Erie Otters are excited to welcome Malcolm Spence (2nd overall), Jacob Gibbons (38th overall), Logan Sawyer (41st overall), Nicholas Holomego (85th overall), Ty Henry (109th overall), Landon Watson (114th overall), Jack Good (125th overall), Payton Stowe (165th overall), Georgy Torptsev (185th overall), Brayden Stumpf (205th overall), Cole Bartnick (225th overall), Thomas Kuipers (245th overall), MacKenzie Curd (247th overall), Jonathan Morello (260th overall), Brady Coe (265th overall), and Marcus Tryfon (285th overall) as the Draft Class of '22.
DRAFT PICKS
DAY 1: ROUNDS 1-3
RD OV Team Player Name Pos Height Weight DOB Last Team Source
1 2 Erie Malcolm Spence LW 6.00 175 09/22/2006 Mississauga Senators U16 AAA GTHL
2 38 Erie
From Soo Jacob Gibbons G 6.04 182 11/23/2006 Markham Majors U16 AAA GTHL
2 41 Erie
From North Bay Logan Sawyer LW 6.00.25 168 05/06/2006 Vaughan Kings U16 AAA GTHL
DAY 2: ROUNDS 4-15
RD OV Team Player Name Pos Height Weight DOB Last Team Source
5 85 Erie Nicholas Holomego LD 6.03.5 189 05/19/2006 Thunder Bay Kings U16 AAA GTHL
6 109 Erie
From Peterborough Ty Henry LD 6.01 176 07/19/2006 Toronto Red Wings U16 AAA GTHL
6 114 Erie
From North Bay Landon Watson RD 6.04 180 09/13/2006 Cleveland Barons 15's Youth (USA)
7 125 Erie Jack Good C 5.07.25 146 03/31/2006 Markham Waxers U16 AAA OMHA - ETA
9 165 Erie Payton Stowe C 6.01.75 148 04/12/2006 Detroit Belle Tire 15'S Youth (USA)
10 185 Erie Georgy Toroptsev RW 5.11.25 177 04/22/2006 North York Rangers U16 AAA GTHL
11 205 Erie Brayden Stumpf C 5.09.5 137 10/09/2006 Waterloo Wolves U16 AAA MHAO
12 225 Erie Cole Bartnick LD 6.00 170 06/07/2006 Detroit Compuware 15's HPHL U15
13 245 Erie Thomas Kuipers RW 5.10.25 165 4/20/2006 Quinte Red Devils U16 AAA OMHA - ETA
13 247 Erie
From Niagara MacKenzie Curd LD 6.06 206 06/13/2006 Burlington Eagles U16 AAA OMHA - SCTA
13 260 Erie
From Flint Jonathan Morello C 6.00.5 160 07/31/2006 Toronto Red Wings U16 AAA GTHL
14 265 Erie Brody Coe LW 6.01.5 155 07/08/2006 North Central Predators U16 AAA OMHA - ETA
15 285 Erie Marcus Tryfon LD 5.10.5 160 07/27/2006 Vaughan Kings U16 AAA GTHL
For further details on the Otters picks and results, head to OttersHockey.com or across the Otters' social media. For all results of the 2022 Priority Selection, please head to OntarioHockeyLeague.com.
• Discuss this story on the Ontario Hockey League message board...


Ontario Hockey League Stories from April 30, 2022
The opinions expressed in this release are those of the organization issuing it, and do not necessarily reflect the thoughts or opinions of OurSports Central or its staff.