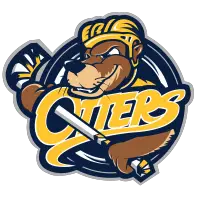 Erie Otters 2022 OHL Under 18 Priority Selection Draft Primer
May 3, 2022 - Ontario Hockey League (OHL) - Erie Otters News Release



Erie, Pennsylvania - Draft season isn't over just yet for the Erie Otters, as the 2022 U18 Priority Selection Draft awaits on Thursday, May 5.
The final OHL Draft of the year, The Under 18 Priority Selection arrives following last weekend's highly-anticipated Ontario Hockey League Priority Selection Draft, which saw the Otters select 16 new prospects aged 15 to 16 over 15 rounds. Much like the name implies, the U18 Draft - which started in 2017 - gives teams the opportunity to select any draft-eligible player under the age of 18 - giving overlooked players a second-chance at catching scouts' eyes.
While the U18 Draft doesn't have the same pomp, circumstance, or allure that the standard Priority Selection Draft receives - as team's select players overlooked initially in the Draft process - it is the perfect time to find diamond-in-the-rough and under the radar prospects. In the 2021-22 season, three players selected during U18 Drafts hit the ice for the Otters: Captain Daniel D'Amato (#4 overall, 2018), Defenseman Ryan Thompson (#8 overall to North Bay, 2019), and Goaltender Marshall Nicholls (#28 overall, 2020).
Daniel D'Amato (2018 Round 1, #4): 2018-22 with Erie
The first-ever U18 draftee to appear in a game for the Otters, 'Captain Dan' D'Amato left an impressionable mark and high-bar for future picks from either Draft to follow
D'Amato would play in 189 games across his three OHL seasons, becoming the first and only U18 pick in league history to score 100+ career points
In the 189 games, D'Amato would grab 110 points (46G+64A), including an incredible point-per-game 63 points (24G+39A) in his final season's 63 games
D'Amato would serve as Otters captain during his final OHL season, marking him the first U18 Otter to accomplish such a feat
The Maple, ON native also appeared in five professional hockey (AHL) games during his last season, posting three points (1G+2A).
Captain Dan will always sit as the gold-standard for U18 players, setting many benchmarks in his three seasons.
Ryan Thompson (2019 Round 1, #8 by North Bay): 2019-Present with North Bay, Erie
While not an Otters U18 pick, Defenseman Ryan Thompson would become an Otter by way of a trade ahead of the 2021-22 season - marking him as one of the more experienced blueliners on the team
Thompson will play his 100th career game in his OA season in 2022-23, having already suited up in 93 (43 in NB, 50 in ER)
In his 50 games with Erie during 2021-22, Thompson scored seven points (2G+5A) - including his first-career goal and game-winning goal all at once
Despite missing a portion of the early season with Erie, the Mississauga, ON native became a staple of the Otters' blueline in his second season
Marshall Nicholls (2020 Round 2, #28): 2021-Present with Erie
Nicholls is the last and latest U18 pick to play for the Erie Otters, and has the distinct honor of being the first-and-only goaltender so far
A participant in the 2021 Training Camp, Nicholls was activated in the final weekend of the preseason, and spent the entire season in Erie
The Waterloo, ON native would appear in 15 games with the Otters in 2021-22, grabbing a 4.42 GAA, .849 SV%, and a 2-9-0-1 record
In the 2022 Draft, the Otters are eligible to select three players from the three rounds, with a 'Linear Draft' being executed, ensuring Erie and all OHL member teams the same draft order in all 15 rounds. The picks are as follows for Erie:
Round 1, #4 pick
Erie will pick fourth overall due to its finish in the 2021-22 OHL season standings (17/20).
Round 2, #24 pick
Round 3, #44 pick
Erie has selected 15 players all-time in the Under 18 Priority Selection, with two players making the regular season roster for the team.
Year RD OV Team Player Name Pos Height Weight DOB Last Team Source
2019 1 3 Erie Connor Olson LD 6.01 169 03/28/2002 Elgin-Middlesex Chiefs MAAA MHAO
2018 1 4 Erie Daniel D'Amato RW 5.11.25 146 04/08/2001 Vaughan Kings MAAA GTHL
2020 1 8 Erie Ethan Broderick RD 5.07.75 157 07/07/2003 Guelph Gryphons MAAA OMHA - SCTA
2021 1 16 Erie Anthony Piccininno LW 5.07 144 04/01/2004 Don Mills Flyers U18 AAA GTHL
2017 1 20 Erie Matthew Giannini RW 5.07.5 144 08/25/2000 Hamilton Jr. Bulldogs Midget AAA OMHA - SCTA
2019 1 23 Erie Bryce Walcarius G 6.01 150 03/01/2002 Elgin-Middlesex Chiefs MAAA MHAO
2018 2 24 Erie Darius Vitug RW 5.08.5 174 04/01/2002 Toronto Jr. Canadiens MAAA GTHL
2021 2 25 Erie MacGregor Armstrong LD 6.03 185 02/04/2003 Niagara North Stars U18 AAA OMHA - SCTA
2020 2 28 Erie Marshall Nicholls G 5.10.5 155 06/18/2003 Waterloo Wolves MAAA MHAO
2017 2 40 Erie Anthony Carraretto LW 5.08.5 147 10/05/2000 Toronto Nationals Midget AAA GTHL
2019 3 43 Erie Zachary Power RW 5.06.25 132 08/20/2002 Rockland Nationals MAAA HEO Midget
2020 3 47 Erie Blake Yetman RW 5.09.25 128 10/02/2002 Whitby Wildcats MAAA OMHA - ETA
2017 3 60 Erie William Anderson G 6.01 186 04/01/2000 Kemptville 73s Midget AAA OEMHL
2017 4 80 Erie Jayden Vaughan LW 5.10 152 06/01/2000 Toronto Jr. Canadiens Midget AAA GTHL
2017 5 96 Erie Evan Miller C 5.06.75 127 03/07/2000 Niagara North Stars Midget AAA OMHA - SCTA
With an experienced, but still youth-lead Otters team taking the ice in 2022-23, players selected in the 2022 OHL U18 Priority Selection will have the chance to make their mark and earn their spot at Training Camp.
All three rounds of the 2022 OHL U18 Priority Selection Draft will take place on Thursday, May 5 starting at 7:00 P.M.
2022 OHL Under 18 Priority Selection Order of Selection:
Saginaw Spirit
Niagara IceDogs
Sudbury Wolves
Erie Otters
Peterborough Petes
Ottawa 67's
Sarnia Sting
Kitchener Rangers
Oshawa Generals
Guelph Storm
Owen Sound Attack
Barrie Colts
Sault Ste. Marie Greyhounds
Mississauga Steelheads
Flint Firebirds
Kingston Frontenacs
North Bay Battalion
London Knights
Windsor Spitfires
Hamilton Bulldogs
Player Eligibility
North American players under 18-years-old born between 2004 and 2006 are eligible for selection in the three rounds of the 2022 OHL Under 18 Priority Selection.
Selected Players in the OHL
OHL Member Teams were permitted to register a maximum of four 16-year-old players selected in the OHL Priority Selection Draft. Those 16 year old players that are allowed to be signed are the first two 16-year-old players selected and a maximum of two additional 16-year-old wild carded players in any round of the OHL Priority Selection.
All other 16-year-old players selected are eligible to be called up as an "affiliated player" or "floating affiliate player" for a maximum of 10 games or for any OHL regular season or playoff games when such player's team has been eliminated from competition for that season.
• Discuss this story on the Ontario Hockey League message board...


Ontario Hockey League Stories from May 3, 2022
The opinions expressed in this release are those of the organization issuing it, and do not necessarily reflect the thoughts or opinions of OurSports Central or its staff.