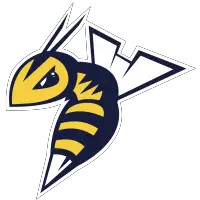 Edmonton: A City Of Champions Once Again
September 15, 2021 - Canadian Elite Basketball League (CEBL) - Edmonton Stingers News Release



As the confetti rained down, and as commissioner Mike Morreale awarded the Edmonton Stingers with the CEBL's golden, maple-leaf clad trophy, the team's head coach, Jermaine Small looked off the stage into a socially-distanced crowd of 2800+ Edmontonians at the Expo Centre, and had one thought.
It actually feels normal again.
Later that evening, the 2021 CEBL Coach of the Year took to Instagram, posting a photo of this special moment with the caption "unforgettable."
And while the world is still plagued with a global pandemic, and Canadians remain vigilant in fighting COVID-19, the CEBL's Championship Weekend gave the city of Edmonton two things it had not experienced in years. A feeling of connection, and a championship.
"The opportunity to win it at home made it even more special, especially for the guys that were there last year," said Small. "Last year we didn't play in front of any fans and we didn't have that invisible sixth man. That picture said it all and that's a picture in my mind looking off that stage when we won, that I will never forget."
The Stingers topped the Niagara River Lions 101-65, and it was only fitting that Edmonton native, and 2021 CEBL All-First Team forward Jordan Baker scored the Elam Ending winner.
"When we won last year, obviously, there was no fans in the building so it was very much a private, intimate celebration, we didn't really get to share it with the city of Edmonton," said Baker. "Being able to celebrate and to experience that in front of fans, especially after being away with no live sports for such a long time, it was different and you know for me as an Edmontonian, it was a lot more special."
Perhaps why this moment is so cherished by the Stingers organization is because it was years in the making. The journey to this championship began long before the champagne bottles were popped, and before the t-shirts were printed.
Edmonton placed second in the inaugural CEBL regular season in 2019, before losing in the semifinals to the host and eventual champions, the Saskatchewan Rattlers. In the shortened 2020 CEBL season that took place at a single location, the team went 5-1 and left as league Champions. The franchise returned seven players from last year's title-winning roster, determined to recreate the success from the Summer Series.
The team's commitment to the cause is what impressed Stingers general manager and head coach Jermaine Small the most.
"A lot of teams lost guys and they left early. For us, I mean, guys just stayed the course, they stayed the whole summer, even with all the distractions that were taking place," said Small. "I believe everyone thinks it's worth it now."
Edmonton went 13-1 this season, and Stingers guard Xavier Moon won the CEBL's Most Valuable Player Award for the third year in a row. And while the team dominated, it was the way they played as a unit that garnered attention.
In the Stingers 36-point victory in the Championship Game, the team registered a CEBL record 36 assists. Adika Peter-McNeilly was named the league's Sixth Man of the Year, and it was Edmonton's balanced attack that made them a threat to teams all season long.
This chemistry has been building over three seasons now. The Stingers have cultivated a family atmosphere where players are unselfish and have sacrificed personal successes for the good of the team.
"Because of how tight off they are off the court, that definitely helps on the court performance. It's been a major reason why we've been so successful," said Small. "Other teams might have more talent on paper, but they just don't have the cohesiveness that we have built, and that we're continuing to build."
Between former Ryerson Rams Adika Peter-McNeilly and Jahmal Jones who Small coached during their U SPORTS days, to Alex Carson and Sascha Kappos, who played together previously at Dalhousie, this roster was designed strategically. Having teammates who are familiar with one another, in addition to keeping a central group of players together over the team's three-year history has help to build a bond both between teammates, and between the Stingers and their community.
"I think one of the biggest reasons the city has embraced us is we've managed to keep our core group of guys together from the first season," said Baker. "The city has a consistent roster to cheer for and they recognize those guys that come back year after year and that's important when you try to build a fan base."
Edmonton's support for the Stingers franchise surged during the CEBL's Championship weekend in late August, but it had been building from the day the team was announced. Coach Small remembers receiving texts and social media messages from fans while the team was in search of their first championship during the Summer Series in 2020. Those same fans showed up to the Expo Centre this year, and continued to spread the "buzz", bringing their friends to games and further growing the fanbase.
And while it has meant so much for the city to have a professional basketball team to support, the opportunity to play for the Stingers has also been a dream come true for Edmonton native Jordan Baker. The former CEBL Canadian of the Year Award Winner is provincial basketball royalty, as the University of Alberta's all-time leader in points, rebounds, assists, and steals.
"There was some part of me that hoped there would be an opportunity to play professional basketball in front of my friends and family in my hometown, but the realist in me, always thought it was going to have to be overseas," said Baker. "So, for the CEBL to come to Edmonton, it's been really special for me."
So once again, Edmonton is a city of champions. Between Wayne Gretzky and the Oilers' four Stanley Cups, to the newly renamed Elks, who topped the Canadian Football League for five consecutive years in the late 70s, to the Edmonton Grads, a legendary women's basketball team who won over 500 games and lost only 20 in a 25-year span, the city has a reputation for cultivating champions.
It may still be early in the Stingers' existence but one could argue they are beginning to build a similar legacy.
"I don't think we're there yet, it was sweet that we were able to win back-to-back championships but when you think of a dynasty, especially in sports, you think of a franchise that achieved excellence over a long time," said Small. "Do I think we can get there? Absolutely."
"We understand that in order to win a championship, you have to win individual games, and in order to become a dynasty, we've got to win a bunch of championships," said Baker. "We're just focused on every single practice, trying to get better every single game, and become more cohesive."
So what's next for the Edmonton Stingers? Defending their title, when the CEBL tips off next May
A league created by Canadians for Canadians, the CEBL has the highest percentage of Canadian players of any professional league in the country, with 75 percent of its current rosters being Canadians. Players bring experience from the NBA, NBA G League, top international leagues, the Canadian National team program, and top NCAA programs as well as U SPORTS. The only First Division Professional League Partner of Canada Basketball, the CEBL season typically runs from May through August. Head to CEBL.ca for more information or follow us on Instagram, Twitter, TikTok, LinkedIn, Facebook & YouTube.
• Discuss this story on the Canadian Elite Basketball League message board...


Canadian Elite Basketball League Stories from September 15, 2021
The opinions expressed in this release are those of the organization issuing it, and do not necessarily reflect the thoughts or opinions of OurSports Central or its staff.