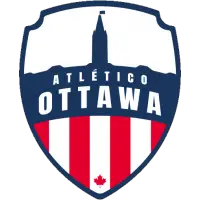 Diaz Hat-Trick Lifts Pacific to Comeback Victory over 10-Men Atlético Ottawa
July 21, 2021 - Canadian Premier League (CPL) - Atletico Ottawa News Release



Surviving a disastrous start, Pacific FC clawed back from an early two-goal deficit to resoundingly beat 10-man Atlético Ottawa 4-2 on Wednesday night, closing out both sides' time at The Kickoff in Winnipeg with one of the most entertaining matches of the CPL season so far.
Atlético Ottawa came into the game with a spring in their step, with highly-touted attacking midfielder Alberto Soto - on loan from parent club Atlético Madrid - making his debut for the team, starting in the number 10 position. Pacific, meanwhile, entered the game with much of their core in the lineup, but without head coach Pa-Modou Kah; he was suspended for this match, so assistant James Merriman took over from the sidelines (but Pacific wouldn't be the only club to need an assistant coach to take over in this game).
Ottawa came out of the gates red-hot, pressing Pacific's defence hard until they slipped up. In just the second minute, striker Malcolm Shaw managed to barrel through Alessandro Hojabrpour and take a few touches before firing a shot between the centre-backs and past the keeper to open the scoring with the fastest goal of the 2021 season. Just over 10 minutes later in the 15th minute, Shaw struck again in similar fashion, winning a battle for a long ball over the top and holding off Pacific's defenders to finish cleanly with a good, strong shot to make it 2-0.
Pretty quickly, though, the tide turned a little in the first half. Ottawa midfielder Ben McKendry caught Pacific's Matteo Polisi with a high boot in midfield, and referee Ben Hoskins showed him a rare straight red card in the 22nd minute, leaving Atleti to defend their lead with just 10 men. With Pacific beginning to chase the game and push further upfield, Ottawa began to defend heavily in well-organized blocks, which held out for some time.
The defence wouldn't hold forever, though; just after the half-hour mark, Ottawa defender Milovan Kapor hauled down Marco Bustos in the box, and the referee awarded the Tridents a penalty. Atlético coach Mista, unhappy with the call, made his feelings known loudly enough to earn a red card from the official, but Pacific's Alejandro Diaz slotted the penalty into the net anyway to make it 2-1 before halftime.
Pacific continued to press forward in the second half, looking to take advantage of their extra man on the pitch. Less than 10 minutes after halftime, after a few waves of attacking pressure, they found the opportunity they needed from a corner kick. Bustos whipped in a strong outswinging cross right to the head of Diaz, and the Mexican forward nodded it home across goal to equalize.
Just a couple minutes later, Pacific would pull in front, as a well-worked move by the Tridents prompted Bustos to shoot from outside of the box that caromed off the left goalpost. Diaz, tangled with an Ottawa centre-back, managed to get a quick jump on the rebound, finishing cleanly just to the goalkeeper's left to complete his hat trick.
Pacific would ultimately put the game to bed in the 75th minute, with a pair of subs combining to score a fourth - Gianni Dos Santos' perfect cross finding the foot of Terran Campbell at the back post for a finish across goal.
Having completed their eight matches at The Kickoff, both these sides will be thankful now to return home to Vancouver Island and Ottawa, where they'll prepare to complete the 2021 CPL campaign in front of fans across the country.
Goals
2′ - Malcolm Shaw (Atlético Ottawa)
15′ - Malcolm Shaw (Atlético Ottawa)
35′ - Alejandro Diaz (Pacific FC)
53′ - Alejandro Diaz (Pacific FC)
55′ - Alejandro Diaz (Pacific FC)
75′ - Terran Campbell (Pacific FC)
Discipline
22′ - Red: Ben McKendry (Atlético Ottawa)
34′ - Yellow: Milovan Kapor (Atlético Ottawa)
38′ - Yellow: Tevin Shaw (Atlético Ottawa)
40′ - Yellow: Matteo Polisi (Pacific FC)
59′ - Yellow: Marco Bustos (Pacific FC)
71′ - Yellow: Alessandro Hojabrpour (Pacific FC)
77′ - Yellow: Sean Young (Pacific FC)
• Discuss this story on the Canadian Premier League message board...


Canadian Premier League Stories from July 21, 2021
The opinions expressed in this release are those of the organization issuing it, and do not necessarily reflect the thoughts or opinions of OurSports Central or its staff.