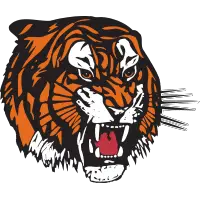 Deep Dive with Corson Hopwo
August 7, 2020 - Western Hockey League (WHL) - Medicine Hat Tigers News Release



Medicine Hat, AB - Even though he grew up playing hockey in the greater Vancouver area, Medicine Hat Tigers forward Corson Hopwo was not raised to cheer for the Canucks. Instead, he was raised to cheer for the Montreal Canadiens, his father's favourite team.
"The moment I was born he had me decked out in all Montreal Canadiens gear," recalls Hopwo. "There's a picture of me with a Habs jersey on when I was probably one or two. So naturally, I grew into being a Montreal fan."
An interesting fact about Hopwo that Tigers fans may or may not know is that he was named after Shayne Corson, Montreal's gritty power forward who played in the NHL from the mid-80s to the early 2000s.
Young Hopwo sporting his Habs jersey"My dad was a big fan, obviously. If you ask me, it's a bit weird to name your kid after a guy who is roughly around your age and I'm not too sure if my mom loved it at the time but here we are," said Hopwo.
After being named after a Canadiens fan favourite, naturally, Hopwo began to pursue the sport of hockey. He learned to skate when he was three and began his hockey career at age four. His oldest hockey memory was playing half-ice Timbit hockey where they tried to hit cones to score. Hopwo grew up playing with the Cowichan Valley Minor Hockey Association.
The 19-year-old Duncan, BC product is known for being a hardworking player and credits his father, Brett, for instilling that quality in him.
"My dad has a big role in my work ethic. Growing up we always competed against each other in everything we did. We used to race up the stairs at night to see who wins. He also always stressed that I need to play on both sides of the puck, and naturally, to help out on defence and pitch in offensively. You have to work hard to get up and down the ice," said Hopwo.
Brett coached Hopwo's minor hockey teams either as the head coach with the Cowichan Valley Minor Hockey or an assistant coach when Hopwo began playing for Delta Academy. When Hopwo joined Delta, he was reunited with his future Tigers teammate Lukas Svejkovsky. Hopwo and Svejkovsky began playing summer hockey together in 2010 for the BC Bears.
"We've known each other for quite a long time. Lukas and his family are amazing people. Living on the Island and having to come over to Vancouver to practice and play games was a big commitment. The Svejkovsky's opened their house up for my family to stay over for the weekend which was a huge help. I have all good things to say about the whole family," said Hopwo.
During the 2015-16 season, Hopwo and Svejkovsky's team won the John Reid Bantam Tournament (JRMT) in St. Albert which Hopwo says is one of the proudest sports moments in his career to date.
Hopwo, Svejkovsky and their team won the John Reid Bantam Tournament in St. Albert in 2015."We had a close team during my first year in Delta. The feeling after winning was the thing I remember the most. The JRMT was the tournament we wanted to win from the start of the season and once we did ti felt pretty cool. The celebration on the ice, in the dressing room and on the bus ride home is something I will never forget. We worked so hard and to finally just relax and have fun with the boys was something I will always remember," said Hopwo.
During the 2016 WHL Bantam Draft, Hopwo was selected in the seventh round, 138th overall by the Tigers. He continued to play with Delta and made his first WHL appearance during the 2017-18 season when the Tabbies stopped in Victoria to battle the Royals. The following season, Hopwo made the jump to the WHL full time.
During his rookie season with the Tabbies, Hopwo started the season rotating in and out of the lineup but his hard work ethic prevailed and he earned a regular spot on the top line with veteran forward and Tigers Captain James Hamblin. The experience of playing with Hamblin was valuable for Hopwo.
"Jim is one of the nicest people you'll ever meet. I learnt so much from him. He was the hardest worker on the ice every night, so trying to keep up with him and make plays at his speed helped my game immensely. I learned tons off-ice as well. He's a professional, the way he portrays himself and takes care of himself is something I will strive to get to soon. Jim also made playing against some of the top guys in the league a little bit easier, I knew that he was going to be in the right spot at the right time so all I had to do was worry about myself and what I was doing," said Hopwo.
During his sophomore season, Hopwo continued to play on the top line along with Hamblin and in doing so, he set new career bests in all offensive categories with 41 points (15G, 26A) in 62 games played. When asked about the success he found this past season, Hopwo credits hard work and his linemates.
Hopwo played on a line with Tigers Captain James Hamblin for the majority of his two seasons with the Tabbies"I put in a lot of work during the summer after my first year with the Tigers. I knew what I needed to get better at and I focused on those things. By saying that, I had some great linemates that helped," said Hopwo. "[Tyler] Preziuso and Jim to start the year, we clicked well at the end of my first year and it continued into the start of the season but after he [Preziuso] got traded then Lukas and [Brett] Kemp filled in well. Kemp and Lukas are both super skilled and they make plays at high speed."
The coaches noticed the strides that Hopwo took in his game this past season and he was named the winner of the 2019-20 South County CO-OP top defensive forward as well as the co-winner of the 2019-20 MacLean Wiedemann Lawyers LLP Most Improved Player with sophomore defenceman Daniel Baker.
"Corson is a heart and soul person. He is a teammate first and foremost. Puts his team above any other personal goals. His work ethic is outstanding and this has allowed him to be successful in this league. For two years he has been Jimmy's left winger and we have all seen what Jimmy has done. I think if you ask Jim, he will tell you that Hops is a big reason for his success. Corson approaches the game the right way. As a staff, we look for him to fill many roles for us during the year. He wants to get better and help the team and he puts in the work day in and day out," said Ryan Smith, Tigers Assistant Coach.
The 2019-20 season ended earlier than anticipated due to the COVID-19 pandemic, but Hopwo was able to gain valuable experience and take away a couple of lessons from the season.
"One of my biggest takeaways from the past season is that I need to focus on my cardio throughout the whole season. To play the way I want to play I need to have good conditioning and need to keep it at a high level, so coming in on off days and riding the bike or running; anything to keep my body moving and functioning well is what I'm going to do more often this coming year," said Hopwo. "Also, I need to have better time management off the ice. I took a university class during the season and I didn't allocate my time well enough to get through it on time. However, I am done now and that is all that matters."
Looking ahead to next season, Hopwo is preparing by focusing on getting quicker and working on his explosiveness. He is training every morning right now and then most evenings after work he will go shoot pucks, go for a run or do a similar activity. He also has set a goal to run a half marathon which he has been working towards during lockdown but has yet to set a date for it.
• Discuss this story on the Western Hockey League message board...


Western Hockey League Stories from August 7, 2020
The opinions expressed in this release are those of the organization issuing it, and do not necessarily reflect the thoughts or opinions of OurSports Central or its staff.
Other Recent Medicine Hat Tigers Stories