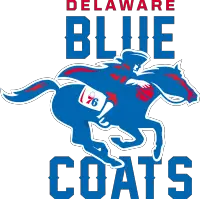 Coats Staff Key to 2021 Success
March 12, 2021 - NBA G League (G League) - Delaware Blue Coats News Release



The Blue Coats came on strong at the start of the NBA G League season, winning their first seven straight games.
Fast forward to March 3, when the team won against the Canton Charge and clinched a playoff berth for the first time in franchise history. Later, of course, the team would play for the NBA G League Championship, falling in the season's final tilt to the Lakeland Magic.
Through it all, the team's staff has played a major role in guiding the team to success.
Assistant Coach Xavier Silas has played for multiple NBA teams including the 76ers, Milwaukee Bucks, and Washington Wizards. He is also the founder of Give Sports, a program designed to give student-athletes the tools they need to achieve their goals.
His recent playing experience is a benefit to the players he now mentors, but the circumstances of this particular season were new to even the longest-tenured veterans.
"When I first got into it [last season], Covid wasn't happening yet," Silas said. "So everything was kind of normal and things were going pretty smoothly, and then when Covid hit, everything just stopped.
"The bubble allows us to be able to play and even though we're all here twenty-four seven, away from our families and friends, we're all grateful that we're able to continue to work and do the thing that we love, which is being around basketball."
A balance was needed to stay active between games, which is something staffers Sam Barthel and Nick Coyle know all about.
Coyle is the team's head athletic trainer and previously worked with the Santa Cruz Warriors. Barthel is the head strength & conditioning coach and also works with the 76ers.
Workout regimens varied depending on the needs of each player but stayed consistent before a game.
'The only routine that we really try to keep the same is the pregame routine," Barthel said. "Just so we have the same exercises so that guys can feel comfortable and have their set routine before each game."
Before the start of the season, the Blue Coats had little time to practice. Hotel workouts and FaceTime helped the team stay on track with fitness.
"We've been able to do really well and our guys have bought into doing the in-room workouts, getting on FaceTime or Zoom with me to make sure they're fit and ready to go," Barthel said.
"Our coaching staff was great with adapting their ideal practice length to what we should do to make sure we progress nicely into the season," Barthel said. "It's been a good experience on that front. Far from the ideal but we've made the most of what we've had done here and had a great experience so far."
In Orlando, the Blue Coats played to empty stadiums and away from familiar faces, which Coyle believes was beneficial but difficult.
"I think mentally it might be a challenge," Coyle said. "I think the bubble can work to the advantage of them being down here, being focused, and also not having to worry about outside factors. I think in that way it's a benefit, although I do see there being some mental obstacles they have to overcome being separated from families and everything like that," Coyle said.
To be sure, the unique circumstances have brought the Blue Coats together.
"Our guys have definitely grown closer as a team, almost like a family," Barthel said.
Playing 18 games over the course of a month is a tough task for any athlete, but the Blue Coats have embraced the rush of the "bubble season." The big-picture remains top of mind.
"Fans are still watching," Silas said. "A lot of people are tuning into these games, so we still have to represent our fans and win for them."
• Discuss this story on the NBA G League message board...


NBA G League Stories from March 12, 2021
The opinions expressed in this release are those of the organization issuing it, and do not necessarily reflect the thoughts or opinions of OurSports Central or its staff.