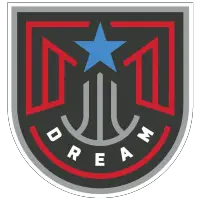 Atlanta Dream Fall to Dallas Wings in Game 1 of Best-Of-3
September 16, 2023 - Women's National Basketball Association (WNBA) - Atlanta Dream News Release



Despite jumping out to a 20-point lead in the first quarter and a history-making performance from Rhyne Howard, the Atlanta Dream fell on the road to the Dallas Wings, 82-94, in Game 1 of this Best-of-3 WNBA Round 1 playoff series.
"Good playoff basketball. We've got to learn how to just keep our composure and finish out games, but it was good playoff basketball from both sides," said Head Coach Tanisha Wright. Despite the loss, there were positives that they will take into Game 2.
"There's things we did well. I thought our transition was pretty good. I thought early we rebounded the ball well and we were able to get out," Wright said. "Our ball movement in the first quarter was pretty good as well and so we were able to get open shots. I liked Rhyne's aggressiveness."
One area of improvement is protecting the ball. "We have to keep our turnovers down, especially when we see them get a little bit more aggressive. We can't get rattled," Wright said. "We can't get into it with officials. We focused a little too much on that as well."
It was a history-making night for both teams. Atlanta's Howard, making her playoff debut, finished the night with 36 points, including 8 three pointers, 4 rebounds and 2 assists and 3 steals. Her 36 points were the most points all-time in a WNBA playoff debut. In addition, she scored the most points in a first quarter in playoff history with 19. Dallas' Satou Sabally had 32 points, including three three-pointers, 5 rebounds, 4 assists and 4 steals. Her performance resulted in the most points in a single game in Wings franchise history.
https://x.com/espn/status/1702894622832304252?s
The Dream came out on the attack from the start, jumping out to a 7-0 lead, including a 3-pointer from Allisha Gray who was playing in her first playoff game against her old team. The Wings appeared unnerved and couldn't withstand the onslaught from the combination of Howard - who hit on eight of her 10 shots from the floor, Gray and Cheyenne Parker, falling way behind at the end of the first quarter, 36-21.
The Dream increased the lead by 5 and held a 20-point lead early in the second quarter after a pair of free throws by Asia Durr pushed the lead to 41-21 with less than 9 minutes to go. At this point, Dallas settled down and went to work, climbing back into the game on an 18-2 run - that featured a steal and layup by Arike Ogunbowale that cut it to a 4-point game with 3 minutes left in the quarter.
Coming up big for the Wings was Teaira McCowan whose three-point play with 0.8 seconds left in the half tied the game at 49. She would finish the game with a double-double (17 points and 14 rebounds).
Howard was held scoreless in the second quarter but scored 12 in the third quarter as both teams traded baskets for the majority of the quarter. The Dream won the quarter by 3 and the fourth quarter saw much of the same with back-and-forth baskets a good portion of the game. It was tied 76 all with a little over six minutes left in the game when the Wings went on an 11-4 run, opening the lead for good.
In addition to her 36 points, Howard hit eight of her 15 3-point attempts. Gray finished with 21 points and Parker had 11 for the Dream, the only players in double digits.
The Wings have won all four matchups with the Dream this season. This is the Dream's first postseason appearance since 2018. Game 2 of the best-of-three set will be played on Tuesday in Arlington. Game 3, if necessary, is scheduled for Sept. 22 in College Park, Ga.
Lineup notes:
ATL: Nia Coffey out, right hand injury
Starters: Danielle Robinson, Allisha Gray, Rhyne Howard, Monique Billings, Cheyenne Parker
https://x.com/AtlantaDream/status/1702851171130491311?s
DAL: Diamond DeShields, Lou Lopez Senechal, both out, knee
Starters: Crystal Dangerfield, Arike Ogunbowale, Satou Sabally, Natasha Howard, Teaira McCowan
https://x.com/DallasWings/status/1702850622058340583?s
Game Highlights:
Allisha Gray hit an open 3 to get the Dream on the board against her old team. That sparked a 7-0 Dream run. The Wings made their own run but too much Rhyne Howard (19 pts, 1 rebound, 1 assist and 2 steals in the first quarter) and Wings turnovers allowed the Dream to extend their lead and win the first quarter 36-21.
https://x.com/AtlantaDream/status/1702860160094396607?s
https://x.com/AtlantaDream/status/1702865452957868522?s
https://x.com/JameelahJNBA/status/1702868820036079882?s
Howard made history tonight, scoring the most points in a first quarter in WNBA postseason history (19). She tied fellow Dream player Angel McCoughtry for the most points scored in any quarter in WNBA postseason.
https://x.com/AtlantaDream/status/1702872051705372965?s
Howard came alive again, scoring 12 points in the third quarter to help the team win the quarter 70-67.
https://x.com/AtlantaDream/status/1702882056273809499?s
Postgame Sounds:
Head coach Tanisha Wright on not playing Haley Jones who had seen increased minutes as the regular season wound down: "Just the flow of the game. And the way things were going and the subs that were being made. It just happens like that sometimes."
Howard on the physicality of the game: "It's nothing we haven't had to deal with last 40 games, we just have to keep our composure better. Especially me and Lish since they are coming for us. We have to be able to weather the storm a little bit better."
Wright on when she felt the game slipped away: "It didn't necessarily slip away but I probably should have called a time out during their run in the first half for sure, but it was just turnovers. They got aggressive; they put Odyssey (Sims) in to really pressure the basketball.
"We came out strong in the third quarter; I think fatigue might have set in a little bit in the fourth - but our staters played 30 minutes, their starters played 30 plus minutes as well so, regardless of fatigue, this is the playoffs, and you can't worry about being tired. You have to be able to weather it, you have to be able to fight through that and still be able to execute at a high level."
Rhyne Howard on her playoff debut: "Just coming out and setting the tone not only for myself but for my teammates. We feel like this is a new season and so we can't come out soft and that means I have to be aggressive looking for shots. They just happened to be falling in the first quarter."
Stats:
Atlanta: 36.8% (28-of-76 FG) from the field
Dallas: 48.6% (34-of-79 FG) from the field
Atlanta: 13-of-17 from the line
Dallas: 19-of-27 from the line
Atlanta: 32 rebounds (nine offensive)
Dallas: 44 rebounds (eleven offensive)
Atlanta:
Rhyne Howard: 36 points; (13-29 FG, 2-2 FT), 4 rebounds, 2 assists, 3 steals
Allisha Gray: 21 points (7-17 FG, 4-5 FT), 7 rebounds, 2 assists, 3 steals, 1 block
Cheyenne Parker: 11 points; (5-16 FG, 0-0 FT), 8 rebounds, 4 assists, 2 steals, 2 blocks
Dallas:
Satou Sabally: 32 points; (11-20 FG, 7-7 FT), 5 rebounds, 4 assists, 4 steals
Arike Ogunbowale: 24 points; (10-23 FG, 3-6 FT), 9 rebounds, 7 assists, 4 steals
Teaira McCowan: 17 pts; (6-7 FG, 5-9 FT), 14 rebounds, 2 assists, 2 blocks
• Discuss this story on the Women's National Basketball Association message board...


Women's National Basketball Association Stories from September 16, 2023
The opinions expressed in this release are those of the organization issuing it, and do not necessarily reflect the thoughts or opinions of OurSports Central or its staff.
Other Recent Atlanta Dream Stories