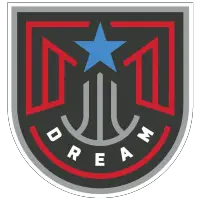 Atlanta Dream Fall in Round 1 of WNBA Playoffs
September 21, 2023 - Women's National Basketball Association (WNBA) - Atlanta Dream News Release



The season is over for the Atlanta Dream who fell on the road to the Dallas Wings, 101-74 in Game 2 of this Best-of-3 WNBA Round 1 playoff series. The Wings won all five matchups with the Dream this season, who saw their first postseason appearance since 2018.
"Not the way we wanted to end the season that's for sure but super proud of this team and what they've accomplished this year," said head coach Tanisha Wright. "We've had some ups and downs this season, but this team has stayed together.
"They fought hard. They showed up every single day," Wright continued. "And they've done exactly what we've asked them to do. So I am proud to have coached this team this season."
Dallas became the first team in WNBA history to have seven double-digit scorers in a playoff game. Satou Sabally and Awak Kuier each scored 13 points, Kalani Brown added 12, Crystal Dangerfield had 11, and Natasha Howard 10.
Rhyne Howard scored 21 points, Allisha Gray added 19 points and Cheyenne Parker had 15 for Atlanta. Howard, who scored 36 points in Game 1, finished her first playoff series with a total of 57 points in two games. That is a WNBA record for the most points in a player's first two playoff games.
It was a close game for much of the first quarter despite Howard being held scoreless until the last minute when she had 6 points, including a three to close the quarter.
Gray picked up a lot of the scoring slack with 11 points midway through the second quarter.
https://x.com/AtlantaDream/status/1704309832646348873?s
Howard scored 21 points but made only 9 of 22 shots after making WNBA history in Game 1 with 36 points.
"What went well for the Wings was the physicality," said Wright. "We turned the ball over heavily in the second quarter, giving them an opportunity to get out and run. At halftime we had 11 turnovers for 20 points. That really hurt us too."
Dallas pulled away in the second quarter by outscoring Atlanta 29-10 for a 52-34 lead. Natasha Howard hit a 3-pointer to seal Dallas' 13-1 run for a 48-31 lead. Ogunbowale and Sabally combined for 24 points in the first half, and the Wings shot 50% from the field. Dream only scored 34 points in the first half.
https://x.com/AtlantaDream/status/1704309832646348873?s
Dream came out a little more on fire in the third quarter, but could only close the gap to 13. The Wings continued to play physical ball with the Dream and soon opened up a 20-point lead and never looked back.
The Wings, who won a playoff series for the first time since relocating to Dallas for the 2016 season, will play the Las Vegas Aces in a Best-of-Five semifinal series that begins on Sunday.
Lineup notes:
ATL: Nia Coffey out, right hand injury
Starters: Danielle Robinson, Allisha Gray, Rhyne Howard, Monique Billings, Cheyenne Parker
https://x.com/AtlantaDream/status/1704293411186995401?s
DAL: Diamond DeShields, Lou Lopez Senechal, both out, knee
Starters: Crystal Dangerfield, Arike Ogunbowale, Satou Sabally, Natasha Howard, Teaira McCowan
https://x.com/DallasWings/status/1704296797286392069?s
Game Highlights:
Rough first half for the Dream as they only scored 34 points in the first quarter.
https://x.com/AtlantaDream/status/1704312252822593896?s
Allisha Gray putting in work
https://x.com/AtlantaDream/status/1704325014114189599?s
The Dream give it their all after making the postseason for the first time since 2018.
https://x.com/AtlantaDream/status/1704331681572811108?s
Postgame Sounds:
Coach Tanisha Wright on positives to take from this series: "We're a young team and we lacked experience to be in this situation so I hope they can take from this - first, be proud of the fact that they got here. There are players on this team that have never been in the playoffs. We made it"
"So now, what is the next step? What does it take for me individually to be better so my team can be better whenever I get this opportunity again and just understanding that."
On the Wings defense on Rhyne Howard. "It's a learning experience. Rhyne will go into the offseason, and she'll understand how teams will play her and how teams will scheme against her to stop her from being able to do what she wants to be able to do and she'll get stronger, and she'll learn from it."
On what she's most proud of: "I'm proud of the fight. Just the fact that we were able to get here. This team hasn't been there since 2018. It was a goal of this team to make the playoffs. Again, not how we wanted to end for sure, but I think just the fight we had to make sure we made the playoffs and gave a gift to the city that really supported us well this year in Atlanta."
https://x.com/AtlantaDream/status/1704338807313649790?s
"Our fans came out pretty much every game. I think we led the league in sellouts. So really proud of the fight the team had to get to this point so now it's all about growing and learning from this opportunity."
What has she learned? "I've got a ton of shit to still learn, you know what I mean? Just understanding the game and the flows and the ebbs and again, trusting instincts, in terms of substitution patterns and things like that. Just being more settled in those things and learning how to put players in a position to be better when they are being defended a certain way. Just a lot. I'll go back as well. We're a team. We win together and we lost together. There's a lot I have to do in the offseason to make sure we are in a better position as well."
Stats:
Atlanta: 41.2% (28-of-68 FG) from the field
Dallas: 52.6% (41-of-78 FG) from the field
Atlanta: 11-of-18 from the line
Dallas: 12-of-14 from the line
Atlanta: 28 rebounds (five offensive)
Dallas: 41 rebounds (twelve offensive)
Atlanta:
Rhyne Howard: 21 points (9-22 FG, 0-1 FT), 3 rebounds, 2 assists, 1 steal, 1 block
Allisha Gray: 19 points (7-16 FG, 3-5 FT), 7 rebounds, 6 assists
Cheyenne Parker: 15 points; (5-15 FG, 3-4 FT), 5 rebounds, 2 blocks
Dallas:
Arike Ogunbowale: 20 points (7-15 FG, 4-4 FT), 2 rebounds, 7 assists
Satou Sabally: 13 points (5-12 FG, 2-2 FT), 4 rebounds, 6 assists, 1 steal, 1 block
Awak Kuier: 13 points (6-8 FG, 0-0 FT ), 6 rebounds, 1 assist, 2 steals, 3 blocks
Teaira McCowan: 12 pts (6-9 FG, 0-0 FT), 16 rebounds, 2 assists, 2 blocks
Kalani Brown: 12 points (5-5 FG, 2-3 FT), 2 rebounds
Crystal Dangerfield: 11 points (4-6 FG, 3-3 FT), 2 rebounds, 2 assists and 1 steal
Natasha Howard: 10 points (4-12 FG, 0-0), 9 rebounds, 2 steals, 1 block
• Discuss this story on the Women's National Basketball Association message board...


Women's National Basketball Association Stories from September 21, 2023
The opinions expressed in this release are those of the organization issuing it, and do not necessarily reflect the thoughts or opinions of OurSports Central or its staff.
Other Recent Atlanta Dream Stories