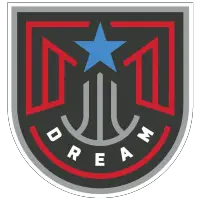 Atlanta Dream Announce 2021 National Broadcasts
May 3, 2021 - Women's National Basketball Association (WNBA) - Atlanta Dream News Release



ATLANTA - The Atlanta Dream will have 23 regular season games broadcasted or streamed nationally, starting with the Dream's home opener on Friday, May 14 against the Connecticut Sun, which will stream live on Twitter, the WNBA announced Monday.
Atlanta will have two games air nationally on ESPN2, five on CBS Sports Network, and seven on NBA TV. Additionally, two of the Dream's games this summer will stream live on ESPN3, three will stream through Twitter and four will be on Facebook Live.
Date Opponent Time (ET) TV/Stream
Fri. May 14 vs. Connecticut 7:30 p.m. Twitter
Wed. May 19 vs. Chicago 7:00 p.m. Facebook
Fri. May 21 @ Indiana 7:00 p.m. Twitter
Tue. May 27 @ Chicago 8:00 p.m. CBSSN
Fri. June 4 @ Minnesota 8:00 p.m. Facebook
Fri. June 11 vs. Seattle 8:00 p.m. CBSSN
Sun. June 13 vs. Washington 3:30 p.m. NBA TV
Tue. June 29 vs. New York 7:00 p.m. ESPN3
Fri. July 2 @ Seattle 10:00 p.m. Twitter
Fri. July 9 @ Connecticut 7:00 p.m. CBSSN
Sun. July 11 vs. Indiana 5:00 p.m. Facebook
Sun. Aug. 15 @ Phoenix 6:00 p.m. CBSSN
Tue. Aug. 17 @ Los Angeles 10:30 p.m. NBA TV
Thu. Aug. 19 @ Los Angeles 10:30 p.m. NBA TV
Sat. Aug 21 vs. Phoenix 12:00 p.m. ESPN2
Tue. Aug. 24 vs. Chicago 7:00 p.m. ESPN3
Thu. Aug. 26 vs. Las Vegas 7:00 p.m. NBA TV
Thu. Sept. 2 @ Dallas 8:00 p.m. Facebook
Sun. Sept. 5 @ Dallas 4:00 p.m. CBSSN
Wed. Sept. 8 vs. Phoenix 7:00 p.m. ESPN2
Fri. Sept. 10 @ Washington 7:00 p.m. NBA TV
Tue. Sept. 14 vs. Indiana 7:00 p.m. NBA TV
Sun. Sept. 19 @ Connecticut 1:00 p.m. NBA TV
Atlanta's first four road games will air nationally, starting with a Twitter stream of the Dream's Friday night matchup against the Indiana Fever on May 21, followed by a CBS Sports Network broadcast of Atlanta's trip to Chicago on May 25.
All of the Dream's games between July 9 and the end of the regular season on September 19 will be broadcasted nationally, headlined by two home ESPN2 games, both against the Phoenix Mercury.
Google, recently announced as a premier supporter of the league as a WNBA Changemaker, as well as an Official Technology Partner and the WNBA's Official Trends and Fan Insights Partner, will be the presenting partner of the WNBA on ESPN. Google has collaborated with ESPN and the WNBA to deliver "25 for 25", a 25-game schedule of telecasts across ABC, ESPN and ESPN2 in celebration of the WNBA's 25th season.
In addition, as part of the commitment of CBS Sports to the WNBA, the network and the league, which first partnered in 2019, have announced a multi-year extension of their relationship through which CBS Sports will present WNBA regular season games, including 40 contests this season, featuring up to three games on the CBS Television Network that will also stream live on Paramount+.
NBA TV, now in its 19th consecutive year of carrying WNBA games, will feature 35 games during the 2021 season.
In 2021, the WNBA and partners Twitter and Facebook will continue to deliver programming to fans via alternative live streaming platforms. As Twitter and the WNBA enter the fifth year of their partnership, Twitter will offer a 12-game slate on #WNBATwitterLive, as well as real-time game highlights and post-game interviews. #WNBATwitterLive will also deliver top voices from the sports community and several new ways for fans to engage, including fan Tweets, Q&As, votes and trivia. Facebook, now in its second straight year as a provider of WNBA game action, will present 20 games available on both Facebook Watch and Venues on Oculus Quest.
WNBA League Pass also returns this season offering over 110 games.
The Dream's regional broadcast schedule will be announced separately in the coming days.
The Atlanta Dream will tip-off their 14th season in the WNBA in May 2021. The organization, who will play its home games at the Gateway Center Arena @ College Park, has qualified for the WNBA Playoffs in nine of its first 13 seasons. Season tickets for the 2021 season are available now by calling 877-977-7729 or visiting www.atlantadream.net. More ticketing information and arena protocols will be announced in the coming weeks.
• Discuss this story on the Women's National Basketball Association message board...


Women's National Basketball Association Stories from May 3, 2021
The opinions expressed in this release are those of the organization issuing it, and do not necessarily reflect the thoughts or opinions of OurSports Central or its staff.