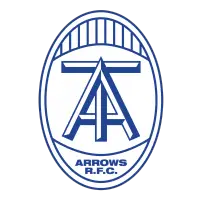 Arrows Comeback Bid Falls Short Against Warriors
March 29, 2021 - Major League Rugby (MLR) - Toronto Arrows News Release



A close game early on saw Utah take control and defend home with a 39-24 victory, rendering the visiting Arrows 0-2 after two weeks of match action.
The match started with a battle of penalty kicks as Utah's Hagen Schulte struck two before Toronto's Tayler Adams answered to make it 6-3. That score held until 31' when the big boot of Schulte put Utah in attacking territory with a lineout at the Arrows' five-metre line. The Warriors executed and hooker Samu Malolo notched the first try of the game.
Utah won the scrum battle throughout the day, and was clinical moments before the halftime break; Schulte took the penalty advantage to boot Utah down once again, and this time it was flanker Lance Williams who benefitted with the try after a strong Warriors' maul. Heading into the break, it was the hosts leading comfortably, 20-3.
Utah was first to strike after the interval as Malolo made a big break, nearly scoring from 35 metres out. A couple quick phases gave him another opportunity at the back of the ruck, and he picked to score his second try of the game.
Toronto did hit back with consecutive quickfire tries to close the gap - a slicing run from Adams, followed by an easy dot-down from Jason Higgins made possible through the hard work of Tomas de la Vega - cutting the hosts' lead to 10 points with plenty of time to play.
Any hope of an Arrows fight-back was dashed by Mike Te'o shortly afterwards. The Warriors captain gave his side the bonus point try, putting Utah ahead 32-17. Fraser Hurst added a late tally for the Warriors, and Manuel Diana barged over for a consolation score at the death.
Two Arrows earned their MLR debuts on Saturday evening, with Joaquin Tuculet and Manuel Montero picking up their first caps.
Toronto enters Week Three of the 2021 season with a clash against Old Glory DC (1-0-1; six points) on Saturday, Apr. 3, with kickoff set for 5 p.m. ET.
Toronto Arrows Stat Leaders
Ball Carries: M. Diana - 12
Carry Metres: M. Diana - 96
Tackles Made: T. de la Vega - 11
Offloads: J. Tuculet - 6
Utah Warriors Stat Leaders
Ball Carries: F. van den Berg - 10
Carry Metres: T. Fisher - 114
Tackles Made: J. van Vuuren - 7
Offloads: A. Fortuin - 3
Toronto Arrows Score Report
Tries: T. Adams (52), J. Higgins (54), M. Diana (79)
Conversions: T. Adams 3 (53, 55, 79)
Penalty Goals: T. Adams 1 (23)
Utah Warriors Score Report
Tries: S. Malolo 2 (31, 45), L. Williams (38), M. Te'o (62), F. Hurst (70)
Conversions: H. Schulte 4 (32, 39, 46, 63)
Penalty Goals: H. Schulte 2 (9, 16)
Toronto Arrows Lineup vs. Utah Warriors
Pat Lynott
Andrew Quattrin
Cole Keith
Adrian Wadden
Mike Sheppard
Tomas de la Vega
Lucas Rumball (C)
Manuel Diana
Jason Higgins
Tayler Adams
Gaston Mieres
Guiseppe du Toit
Ben LeSage (C)
Leandro Leivas
Joaquin Tuculet
Jack McRogers
Chris Atkinson
Tyler Rowland
Kolby Francis
Marcello Wainwright
Andrew Ferguson
Manuel Montero
Pat Parfrey
• Discuss this story on the Major League Rugby message board...


Major League Rugby Stories from March 29, 2021
The opinions expressed in this release are those of the organization issuing it, and do not necessarily reflect the thoughts or opinions of OurSports Central or its staff.