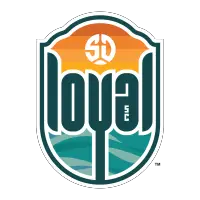 A Set of Wins against College Teams
April 17, 2021 - United Soccer League Championship (USL) - San Diego Loyal News Release



Chula Vista- - Collin Martin walked away from near the penalty box pumping his fist Saturday. The midfielder had just scored after beating the goalkeeper on a one-on-one play.
It was a brief celebration from the 26-year-old from Maryland. And he had reason to as he sent in his second goal in a 4-1 win against Cal State Fullerton at the Chula Vista Elite Athlete Training Center. It was the second win in a pair of preseason matches for SD Loyal, heading into the USL Championship opener April 30.
Martin finished his second score of the day after he broke away after taking the ball on the Cal State Fullerton side of the pitch. He sped up with only the goalkeeper to beat. That's when Martin made his move left then right to get past the goalkeeper. He ran freely to send a low, rolling shot from right to left into an open net in the 40th minute.
Martin's pair of goals gave SD Loyal a 3-0 lead after Corey Hertzog (31st minute) and Jack Metcalf (35th) had previously scored. Hertzog converted a penalty kick after Martin was taken down in the penalty area. Metcalf fired and buried a right-footed shot from just inside the 16-yard box.
But the scoring didn't end there for SD Loyal. Jack Blake blasted a free kick into the net for a 4-1 lead in the 48th minute. Cal State Fullerton scored in the 63rd minute.
This were the sixth and seventh preseason games for SD Loyal as it heads into its second season. Coach Landon Donovan used two sets of lineups that included a handful of trialists.
"We are really starting to gel now," Donovan said. "It generally takes time in preseason with new faces. We are really happy how today went and we're 13 days away now. We've gotten a lot of different looks and the good thing is guys have to figure out and solve problems. They are doing a great job at that. The team is really growing and there is a lot of accountability on the field."
The first lineup led SD Loyal to a 2-1 win against Azuza Pacific in the day cap of the preseason doubleheader. Ben Spencer scored a pair of goals in the day cap to help his team to a 2-1 win in the preseason affair. Spencer put back a loose ball in the area in his first goal and converted a penalty kick.
Donovan's team now heads into its final preparation match Friday April 23 against USD at Torero Stadium, a week from its season opener at Phoenix Rising FC.
"I am really happy where we are, we've made a lot of good progress," Donovan said. "We have a really good opportunity Friday night against USD to really be sharp and play well and then we have probably the best team in the season. So, we have to be ready to go."
SD Loyal 4, Cal State Fullerton 1 SCORING 1-0-30th Corey Hertzog (SD) 2-0-35th -Jack Metcalf (SD) 3-0 -40th -Collin Martin (SD) 4-0 -48th -Jack Blake (SD)
LINEUP: SD Loyal -16. Trey Muse, 4. Jack Metcalf, 6. Charlie Adams, 7. Jack Blake, 8. Sal Zizzo, 12. Niki Jackson, 17. Collin Martin, 21. Corey Hertzog, 29. Thomas Vancaeyezeele, Trialist 3, Trialist 4. Coach: Landon Donovan.
• Discuss this story on the United Soccer League Championship message board...


United Soccer League Championship Stories from April 17, 2021
The opinions expressed in this release are those of the organization issuing it, and do not necessarily reflect the thoughts or opinions of OurSports Central or its staff.