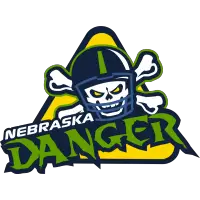 New IFL Team Nebraska Danger Announced Today
October 4, 2010 - Indoor Football League (IFL) - Nebraska Danger News Release



The Bosselman Family of Companies is pleased to introduce Bosselman Entertainment LLC and the Nebraska Danger Indoor Professional Football Team as announced at a Press Conference this afternoon. The Nebraska Danger will be a part of the IFL (Indoor Football League). Facts about the team, owner, and coaches follows below:
Name: Nebraska Danger Indoor Professional Football Team
League: IFL (Indoor Football League) goifl.com
Logo: Skull & Crossbones
Team Colors: Navy and Bright Green
Home Turf: Heartland Events Center, Grand Island, Nebraska
Football Office: 308-381-2942
Email: dangerfootball@bosselman.com
Website: www.dangerfootball.com
Tickets: TBA
Tryout Date: Sunday, October 17 at 10 am, location TBA.
Games: February through June, 2011 - Final Schedule TBA
14 games + play-offs, 7 home games, 7 road games. The game is considered 8-man Indoor Professional Football. Our players come from all over the USA and have had very successful college experience, some will already have NFL, CFL, or IFL experience. 25 men will be on the roster.
Countdown: 145 days until kickoff! 3,484 hours until DANGER FOOTBALL!
Owner: Charlie Bosselman
Email: charlie.bosselman@bosselman.com
As President of the Bosselman Family of Companies, Charlie Bosselman oversees all aspects of all retail divisions as well as Bosselman Entertainment, LLC. He holds a Bachelor of Science in Business Administration from the University of Nebraska and has served as Chairman of the Board of Ambest from 2002-2003, is President of VisionComm Enterprises, and is a GISH Fine Arts BOD member since 2007.
Bosselman and his wife Laurie have two children, Carsten, a college freshman, and Kinsey, a sophomore at Grand Island Senior High. Together, they also manage several businesses they are involved in.
General Manager: Mike McCoy
Cell: 308-258-4429
Email: mike.mccoy@bosselman.com
Mike brings a wealth of experience in sports entertainment as past General Manager of the Wichita Wild indoor professional football team. Prior to the Wild, he served as GM for Wichita's two previous pro indoor football franchises, the Stealth and the Aviators. He also spent one season as a Consulting GM for both the San Diego Riptide and the Louisville Fire of the AF2. McCoy has 20 years of coaching experience both at the high school and college levels, which includes tenure on the Kansas State coaching staff where he was in charge of coaching the quarterbacks and wide receivers. McCoy graduated from Southwestern College, where his playing career there led to a tryout with the Dallas Cowboys. He also holds a Masters Degree in Sports Administration from the University of Kansas. He has also served as an instructor of Sports Finance and Marketing at Wichita State University.
McCoy and his wife Anne have five children and four grandchildren.
Head Coach: Sean Ponder
Cell: 858-735-4270
Email: sean.ponder@bosselman.com
Ponder brings with him a proven record with a offensive powerhouse coaching mentality as well as long history of recruiting quality individuals and creating winning team dynamics. Ponder has 15 years of coaching experience, 8 years as a head coach. In addition to his coaching experience, Ponder was also a former college football quarterback at Emporia State where he earned NCAA Div II All American honors to go along with 2 years of professional football playing experience. As a Coach, Ponder has sent 42 players to the AFL, CFL and NFL combined with 8 playoff appearances and 4 division championships.
In addition to Coach Ponder's on-the-field accomplishments, he is also heavily involved in supporting local community programs and charities. Coach Ponder sets the expectation that all players are to be involved in community events for things such as players going to local schools and participating in reading classes for children. In addition he expects players to participate in local organizations such as the Boy's and Girls clubs, Boy Scout's of America, and local youth football organizations just to name a few. Coach Ponder expects the players to acknowledge how privileged they are to be where they are and expects them to help give back to the community that helps and supports the team. Coach Ponder has also been a member of the Fellowship of Christian Athletes for over 21 years.
Assistant Head Coach/Defensive Coordinator: Mike Davis
Email: mike.davis@bosselman.com
Born and raised on the East Coast, Coach Davis brings 7 years of experience to the Danger. He attended Virginia Tech where he played linebacker. After losing in the National Championship game, Davis played 6 years in the arena and indoor leagues before moving into coaching. Davis brings a wealth of knowledge and recruiting experience to the Danger, as he helped build and win an indoor championship in Virginia. Davis took over the River City Rage franchise in 2008, and led them to the championship game. Last year, he coached the Omaha Beef to a 10-5 record after a 2-4 start. The defensive unit held opponents to under 40 points in all but one game last year. A strong defense and an exciting offense should make for a very potent team for the Danger this year.
Offense and Defensive Line Coach: Ed Flanagan
Ed Flanagan joins the Danger for the 2010 season after serving as the Line Coach for the Fairbanks Grizzlies for the past 2 years.
The Altoona, Pennsylvania native has over 15 years of coaching experience at multiple levels. He has coached with San Bernadino (California) Valley College, Chaffey College, Oakland Invaders (USFL), San Diego Riptide (af2), Quad City Steamwheelers (af2), Milwaukee Mustangs (AFL) and the Arizona Rattlers (AFL) Fairbanks Grizzlies (IFL). This will be the Fifth year that he has coached under Head Coach Sean Ponder.
Prior to starting a successful coaching career, Flanagan played for the NFL's Detroit Lions and San Diego Chargers from 1965-1976. The four-time NFL Pro-Bowler played his first 10 seasons with the Detroit Lions before finishing his last two seasons in San Diego. Flanagan was inducted into the All 75 Year Anniversary Team this year with the Detroit Lions. The All 75 team is the top players at each position for the last 75 years. Coach Flanagan resides in North Glenn, CO with his wife Tina and his son Dan.
Office Staff
Operations: Brian Fausch
brian.fausch@bosselman.com
Public Relations & Media: Stephanie King-Witt
marketing@bosselman.com
• Discuss this story on the Indoor Football League message board...


Indoor Football League Stories from October 4, 2010
The opinions expressed in this release are those of the organization issuing it, and do not necessarily reflect the thoughts or opinions of OurSports Central or its staff.