Indoor and Arena Football History
Xtreme Football League (Xtreme)

Active: 1999 (DNP)
---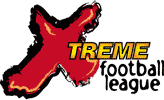 The Xtreme Football League announced its formation at a news conference in Birmingham on April 20, 1999. The XFL was to be an Eastern U.S. indoor football league that planned to begin play in April 2000 with 10 to 12 teams, all of which were to be committed by June 1. The XFL's playing season was to be April through August.
Sports entrepreneur Art Clarkson served as acting Commissioner of the league as well as owning the Tennessee Valley (Huntsville, AL) franchise. Clarkson was responsible for bringing back both baseball and hockey to Birmingham when he organized the Birmingham Barons and the Birmingham Bulls.
When asked to compare the league to Arena Football, Clarkson said, "We're leaning more toward taking the outside game indoors. We'll have offensive and defensive teams with no nets. We are going to entertain people. That's the bottom line." Plans were to have eight players on a side from each team, a 22 man roster and a sixteen game schedule. The field size was to be 200-feet long and 85-feet wide. Also, each team in the league would have territorial rights to former players from local colleges. Clarkson said, "We have to have a common draft, territorial rights and be in a position where you don't get into a bidding war over players. Once you do that, you're out of business." The league would be divided into two geographical divisions and a two-tiered postseason playoff would determine the league champion. Ticket prices were expected to average around $10 with games largely on Friday and Saturday nights.
The Birmingham team was to be owned by David Berkman, Charles Felix and Bruce Burge, the same ownership group that purchased the Birmingham Bulls of the East Coast Hockey League (ECHL) from Clarkson the year before. The group also owned the Jacksonville (FL) and Pensacola (FL) franchises. Felix said no nickname, colors or logos had been chosen for the Birmingham team at the time. "The people are the best ones to name the team," he said. "We're going to have a contest and hope to select a name within the next 60 days."
Clarkson named the cities that were already committed to the XFL: Birmingham, Greenville (SC), Tennessee Valley (Huntsville, AL), Jacksonville, Norfolk (VA), Pensacola, Richmond (VA), Roanoke (VA) and Tallahassee (FL). Other cities that could join the league included: Charleston (SC), Fayetteville (NC), Winston-Salem (NC). Franchises in the new league, going for $75,000, would be owned in part or in whole mostly by existing ECHL owners, allowing them to use their hockey teams' support and office staff to reduce costs. Maximum team budgets were to be around $600,000, roughly half of most Arena Football League (AFL) budgets at the time. Each team would need to average at least 5,000 fans per game to break even.
While most of the teams would be owned by current ECHL owners, many of them had failed in other sporting endeavors before. Their Eastern Indoor Soccer League folded the year before after just two years of action. Clarkson said, "We're going to have some fun with this thing. That's the idea of the league. If the teams remember people want to have fun, they'll be successful."
The XFL faced some stiff competition as the AFL planned to organize its own minor league called arenafootball2 (af2), that would play in smaller markets. In addition, the Indoor Professional Football League (IPFL) operated franchises from Baton Rouge to Hawaii. The league looked at a television contract as a possibility, not a necessity. "We're working on a TV deal," Clarkson said. "Certainly, you can survive without TV. There's not a minor-league sport that's television-generated. We've got to be arena-driven."
In June of 1999, Clarkson was quoted as saying, "The XFL is still a league in formation. When we open next April - and we will - it may be different from what it is now. This is a tier-two professional sport. The budgets are geared toward the market. If the owners don't get crazy, we will be successful. If they do, we won't." Biloxi (MS), Greensboro (NC), Lafayette (LA) and Little Rock (AR) were also mentioned as possible franchise sites.
On July 29, 1999 the nine XFL teams joined forces with the fledgling arenafootball2, spelling the end of Clarkson's venture. He didn't leave the business, however, as he remained the owner of af2's Tennessee Valley Vipers.
AFL Commissioner David Baker announced the merger. The XFL teams from Birmingham, Greenville (SC), Tennessee Valley (Huntsville, AL), Jacksonville, Norfolk (VA), Pensacola, Richmond (VA), Roanoke (VA) and Tallahassee (FL) would join the previously committed af2 teams from Little Rock, Oklahoma City, Quad Cities (IL/IA) and Tulsa (OK). It was expected that Shreveport and Ft. Myers (FL) would join af2 in 2001, and six other cities were consideration for franchises. The XFL members reportedly each paid $150,000 to enter the af2.
Mary Ellen Garling, AFL vice president of league development and executive director of af2, said, "Geographically and competitively, it makes sense. These markets form a solid southeastern region from which our product can expand and it also allows for competitive football with other regions. I am proud of the entire 2000 ownership group who represent a premiere class of operators and will build the solid foundation of arenafootball2."
According to Birmingham owner Charles Felix, merger discussions had taken place even before the XFL's formation was announced in April but only became final earlier in the week. Felix said, "The AFL came to us. At first, we were miles apart, but we worked out the economic differences. The big thing is the AFL understands the middle-tier market, like we do. It makes sense not to compete with each other."
- Adapted from BirminghamProSports by Gene Crowley