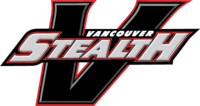 News Release
Vancouver, BC (Saturday) - The Vancouver Stealth (7-9) defeated the Calgary Roughnecks (7-10) on Saturday night, 15-11.
It was the game that was dubbed "not a must win, but you should probably win!" The Stealth played the Roughnecks in the closest thing to a playoff game that has been viewed inside the Langley Events Centre in recent memory.
Calgary scored early and the teams traded the lead in the first, but it was the Roughnecks who held a 6-5 edge at the half. Secondary scoring from Matt Beers, James Rahe, Cliff Smith and Evan Messenger helped with the comeback, but it was a return of form from Logan Schuss who dug Vancouver out of the deficit with five goals.
"I haven't had a goal in a while, so I wanted to get that ball after I scored my first goal of the game," said Logan Schuss. "It was just one of those games where the ball was going in for me. Corey (Small) was being double-teamed all game and so he just fed me the ball."
Small added five helpers and Rhys Duch scored two goals and seven assists to thrust the Stealth to victory.
"I thought we have played fairly well in the Langley Events Centre this year, we just have not gotten the results in some games," said Head Coach Jamie Batley. "Tonight, was a great win for the team, for this franchise and for the fans."
The win elevated the Stealth back into a playoff spot, leapfrogging Calgary. With one more win this season Vancouver could clinch a playoff berth due to the season series over the Roughnecks.
|BOXSCORE| |POSTGAME AUDIO| |HIGHLIGHTS|
The victory this evening was not just on the scoresheet but also in the philanthropy department. The Stealth dawned a new BC-themed flag jersey which they auctioned off throughout the game. Vancouver raised $7575, which will go to the Lacrosse on the Move Fund and help travelling lacrosse teams in British Columbia. For more information on the bids go here.
The Stealth have two remaining games to close out the 2017 season. Next week is Fan Appreciation Night where the first 1000 people inside the Langley Events Centre will receive a Matt Beers bobble head. In addition, the Stealth look to official earn a berth into the playoffs. Tickets for the game are available at the Langley Events Centre Box Office at 604-882-8800, or Ticket Rocket.co.
About the National Lacrosse League:
The National Lacrosse League (NLL) is North America's premier professional indoor lacrosse league. Founded in 1986, the NLL ranks third in average attendance for pro indoor sports worldwide, behind only the NHL and NBA. The League is comprised of nine franchises across the United States and Canada: Buffalo Bandits, Calgary Roughnecks, Colorado Mammoth, Georgia Swarm, New England Black Wolves, Rochester Knighthawks, Saskatchewan Rush, Toronto Rock and Vancouver Stealth.

• Discuss this story on the National Lacrosse League message board


Images from this story
National Lacrosse League Stories from April 16, 2017