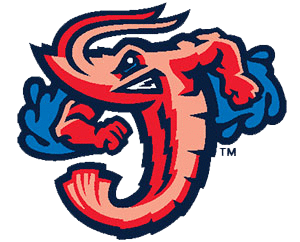 News Release
PENSACOLA, Fla. - The Jacksonville Jumbo Shrimp (5-9) fell to the Pensacola Blue Wahoos (11-3) by a 8-5 score in the fourth game of the five-game series at Blue Wahoos Stadium on Thursday night.
Pensacola right-handed starter Deck McGuire (1-0) earned the win with six innings where he allowed four runs on six hits with two walks and seven strikeouts. Jacksonville starting pitcher Mike Kickham (0-2) took the loss, allowing seven runs on eight hits with no walks and four strikeouts. Domingo Tapia earned his first save of the year with a perfect ninth inning of relief.
Jacksonville took the game's first lead in the top of the second on a solo homer by David Vidal, who previously played with Pensacola from 2012-13, as the Shrimp led 1-0. Pensacola came roaring back in the bottom of the second, with Gabriel Guerrero beginning the inning with a double before Aristides Aquino hit a two-run homer to right field to put the Wahoos in front 2-1. Taylor Sparks followed with an RBI double and then Brian O'Grady added an RBI triple to grow the lead to 4-1, then Blake Trahan brought in a run when he reached on a fielder's choice to make it a 5-1 lead in the second.
The Jumbo Shrimp cut into the lead with an RBI double by Vidal in the top of the fourth to make it a 5-2 game, then an inning later Alex Glenn had a two-run triple to make it a 5-4 ballgame. Aquino then started the bottom of the sixth inning against Kickham with a triple, then Angelo Gumbs blasted a two-run homer to left to put Pensacola's lead at 7-4. A wild pitch by reliever Hunter Adkins later scored Brian O'Grady to give the Wahoos an 8-4 advantage.
Jacksonville scored its last run in the seventh when Jeremias Pineda brought in a run on a fielder's choice to put the score at 8-5, which would be the final.
The Wahoos have now won the first four games of the series, as Jacksonville's losing streak has reached six games.
The Jumbo Shrimp and Blue Wahoos will continue their series with the fifth and final game of the five-game series on Friday at 7:35 p.m. ET. Right-handed pitcher Chris Mazza (0-1, 3.75 ERA) will start for Jacksonville against Pensacola right-hander Austin Ross (1-0, 1.29 ERA). Fans can listen to the game on the Jumbo Shrimp Network presented by Community First, beginning at 7:20 p.m. ET with the pregame show "Shrimp On Deck" on FM 100.3 & AM 1600 The Biz, the TuneIn Radio app, and www.jaxshrimp.com.

• Discuss this story on the Southern League message board