Knighthawks Blast Bandits

The Rochester Knighthawks soared past their division rival, the Buffalo Bandits, earning a 21-11 win Saturday night at Connors & Ferris Field at The Blue Cross Arena. "Everything's been working in our favor," said Knighthawks head coach Mike Hasen. "Defensively, we're playing very well. 'V' (Matt Vinc) is making those big saves for us and keeping it out. We're pushing and they're dropping and offensively we're moving the ba...
Full Story

Todays Top Story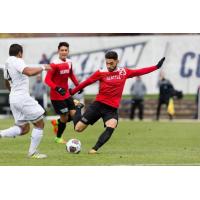 SAN ANTONIO - The San Antonio Rampage (22-16-4-0) fell 2-1 in overtime for the second consecutive game to the Tucson Roadrunners (22-12-2-1) on Saturday at the AT&T Center. San Antonio struck first at 12:19 of the opening period when Jesse Graham'...
Happening Now
Tweets By OSC Today
Search OSC