BC LIONS INSIDER:Veterans Reflect on Season Gone Wrong, Quarterback Eyes June Return and Three Key Performers Honoured.
"It's almost surreal. We just have to swallow it and lick our wounds." As members of the BC Lions cleaned out their lockers, plenty of opinions were shared on why 2017 didn't live up to expectations. A couple of key veterans pointed to different moments of the season. "I could potentially be ready as early as June. It could be longer than that." Many observers point to Travis Lulay's knee injury in September as the tu...
Full Story

Todays Top Story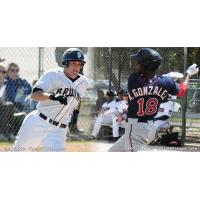 Portland selects midfielders Sandra Yu, Gabby Seiler in first round, Bella Geist in third round PHILADELPHIA - Portland Thorns FC selected midfielders Sandra Yu (No. 8 overall) from Notre Dame and Gabby Seiler from the University of Florida (No. 9...
Happening Now
Tweets By OSC Today
Search OSC