Tulsa Oilers Weekly Report
Tulsa plays fourth straight overtime game Sunday ahead of week-long break. In the first meeting of the season between Tulsa and Utah, the Grizzlies opened the scoring early in the first period, but Tommy Vannelli tied the game before the first break. Utah scored a power play goal early in the second period to go back in front, and the Grizzlies held on to that lead heading into the third. Evan Richardson evened the score at...
Full Story

Todays Top Story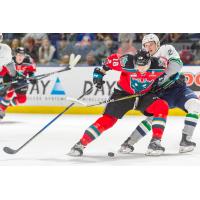 BASEBALL International League: The Pawtucket (RI) Red Sox, or PawSox, of the Triple-A International League moved a step closer to a proposed new stadium in Pawtucket after the Rhode Island Senate Finance Committee approved a state funding package...
Happening Now
Tweets By OSC Today
Search OSC