Grizzlies Top Oilers in Overtime
TULSA, OK - The Tulsa Oilers battled back from two separate deficits, but fell 3-2 in overtime Friday against the Utah Grizzlies at the BOK Center. Utah jumped out to a 1-0 lead, when Sam Windle was left all alone in the left circle and rang a wrist shot off the post and in behind ECHL Goaltender of the Month, Devin Williams. The Oilers evened the score on a Grizzlies turnover, when Dmitrii Sergeev set up Tommy Vannelli on ...
Full Story

Todays Top Story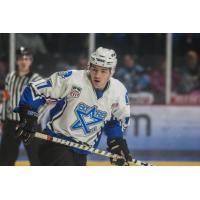 FRISCO, TX - Southern New Hampshire Univeristy (SNHU) and Major League Soccer (MLS) club FC Dallas teamed up to host a surprise graduation party and diploma delivery for Tesho Akindele, the first MLS player to earn a degree online from SNHU, as part ...
Happening Now
Tweets By OSC Today
Search OSC