Grizzlies Top Oilers in Overtime
TULSA, OK - The Tulsa Oilers battled back from two separate deficits, but fell 3-2 in overtime Friday against the Utah Grizzlies at the BOK Center. Utah jumped out to a 1-0 lead, when Sam Windle was left all alone in the left circle and rang a wrist shot off the post and in behind ECHL Goaltender of the Month, Devin Williams. The Oilers evened the score on a Grizzlies turnover, when Dmitrii Sergeev set up Tommy Vannelli on ...
Full Story

Todays Top Story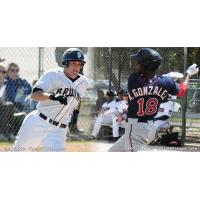 Portland selects midfielders Sandra Yu, Gabby Seiler in first round, Bella Geist in third round PHILADELPHIA - Portland Thorns FC selected midfielders Sandra Yu (No. 8 overall) from Notre Dame and Gabby Seiler from the University of Florida (No. 9...
Happening Now
Tweets By OSC Today
Search OSC