Bo Jelovac's Big Presence Welcomed Back to the Silver Knights Again in 2017-18 Season.

SYRACUSE, N.Y. - With a penchant for big runs from the defensive half and inspiring his teammates to strive for victory every second of the match, defender Bo Jelovac returns to the Syracuse Silver Knights for the 2017-18 season in the Major Arena Soccer League. Per team and league policies, terms of the agreement were not disclosed. "I'm pretty excited to re-join the team," said Jelovac. "I'm looking forward to our first t...
Full Story

Todays Top Story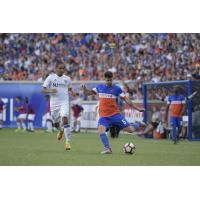 Veteran defender agrees to new, one-year deal with FC Dallas FRISCO, TEXAS - FC Dallas has signed veteran defender Maynor Figueroa to a new one-year contract, the club announced today. Figueroa, 34, has spent the last two seasons with FC Dalla...
Happening Now
Tweets By OSC Today