WHL Powers CW: 150 WHL Graduates Set to Open Canada West Season

EDMONTON - When the puck drops on the Canada West men's hockey season this Friday, there will be no shortage of Western Hockey League graduates suiting up as student-athletes. A total of 150 players with WHL experience open the 2017-18 season, with representation on all eight CW men's hockey rosters. The WHL continues to power excellence on the ice and in the classroom across Western Canada. WHL graduates account for 70 per...
Full Story

Todays Top Story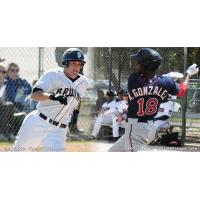 Portland selects midfielders Sandra Yu, Gabby Seiler in first round, Bella Geist in third round PHILADELPHIA - Portland Thorns FC selected midfielders Sandra Yu (No. 8 overall) from Notre Dame and Gabby Seiler from the University of Florida (No. 9...
Happening Now
Tweets By OSC Today
Search OSC