Will Oliver Fans 13 in Complete Game Shutout Win for Patriots

WILL OLIVER FANS 13 IN COMPLETE GAME SHUTOUT WIN FOR PATRIOTS Bridgewater, NJ- Will Oliver (7-6) struck out a team season-high 13 batters to lead the Somerset Patriots (29-32, 71-60) over the York Revolution (33-28, 61-70) in a complete game 6-0 shutout at TD Bank Ballpark on Friday evening. "I was mixing in and out of the zone and throwing breaking stuff early," said Oliver. "I've been working hard on getting on the sam...
Full Story

Todays Top Story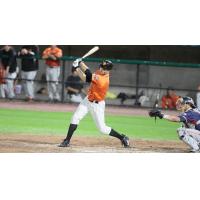 SPORTING KC DEFEATS NY RED BULLS 2-1 TO COLLECT 2017 U.S. OPEN CUP CROWN Latif Blessing and Daniel Salloi Goals Lift SKC to Third Open Cup Crown Under Head Coach Peter Vermes and Fourth Overall KANSAS CITY, Kan. (Sept. 20, 2017) - Sporting Kans...
Happening Now
Tweets By OSC Today
Search OSC