3rd Annual Chasers Community Week highlights August community events

Storm Chasers players and front office members participated in the third annual Chasers Community Week last month, which included visits to Southwest YMCA, Ronald McDonald House and Children's Hospital. The Storm Chasers and Werner Enterprises were both honored to have The Wall That Heals at Werner Park which featured a half-scale replica of the Vietnam Veterans Memorial Wall in Washington D.C. In total, front office staff mem...
Full Story

Todays Top Story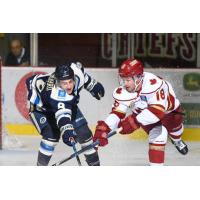 WINNIPEG TAKES MARATHON AFFAIR TO EVEN SERIES Winnipeg 4, Wichita 3 (F/17) Series Tied 2-2 W: Zack Dodson (1-0) L: Tyler Kane (0-1) S: None WINNIPEG, Manitoba (September 18, 2017) - The Winnipeg Goldeyes got a walk-off double in the bottom...
Happening Now
Tweets By OSC Today
Search OSC