Pair of Rehabbers Vaults Hooks to 10-3 Victory over Riders

PAIR OF REHABBERS VAULT HOOKS TO 10-3 VICTORY OVER RIDERS STASSI AND McCULLERS JR. SHINE, HOOKS HOMER FOUR TIMES IN WIN R H E Corpus Christi (62-70, 28-34) 10 10 1 Frisco (59-76, 28-37) 3 11 0 W: McCullers Jr. (1-0) | L: Mendez (7-8) Attendance: 6,117 FRISCO, Texas - Houston Astros rehabbers Max Stassi and Lance McCullers Jr. led the way for the Corpus Christi Hooks as they defeated...
Full Story

Todays Top Story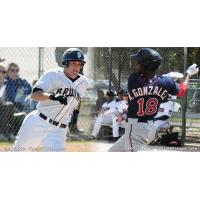 Portland selects midfielders Sandra Yu, Gabby Seiler in first round, Bella Geist in third round PHILADELPHIA - Portland Thorns FC selected midfielders Sandra Yu (No. 8 overall) from Notre Dame and Gabby Seiler from the University of Florida (No. 9...
Happening Now
Tweets By OSC Today