Motl's Big Night Pushes Canaries to Series Win in Cleburne

CLEBURNE, TX - Dan Motl went 4-for-5 with a triple and two RBI in the Canaries 6-3 win over the Cleburne Railroaders on Saturday night at The Depot at Cleburne Station. The Birds trailed 1-0 going into the top of the 2nd inning before Ty Morrison and Mike Falsetti reached on back-to-back walks. B.J. Guinn loaded the bases with a single before Motl tied the game at 1-1 with an RBI single, scoring Morrison from 3rd base. Burt...
Full Story

Todays Top Story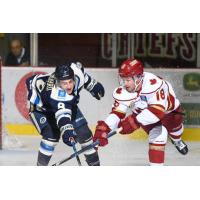 WINNIPEG TAKES MARATHON AFFAIR TO EVEN SERIES Winnipeg 4, Wichita 3 (F/17) Series Tied 2-2 W: Zack Dodson (1-0) L: Tyler Kane (0-1) S: None WINNIPEG, Manitoba (September 18, 2017) - The Winnipeg Goldeyes got a walk-off double in the bottom...
Happening Now
Tweets By OSC Today
Search OSC