Motl's Big Night Pushes Canaries to Series Win in Cleburne

CLEBURNE, TX - Dan Motl went 4-for-5 with a triple and two RBI in the Canaries 6-3 win over the Cleburne Railroaders on Saturday night at The Depot at Cleburne Station. The Birds trailed 1-0 going into the top of the 2nd inning before Ty Morrison and Mike Falsetti reached on back-to-back walks. B.J. Guinn loaded the bases with a single before Motl tied the game at 1-1 with an RBI single, scoring Morrison from 3rd base. Burt...
Full Story

Todays Top Story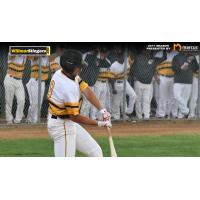 Juan Rodriguez 's tripled in a run and scored in the top of the 13th inning as the Salem-Keizer Volcanoes avenged a 12-inning loss in the series opener with a 5-3 victory over the Hillsboro Hops. Rodriguez had three hits and two runs scored for th...
Happening Now
Tweets By OSC Today
Search OSC