Henderson Tosses Gem in Shut out of Dawgs

Conroe, TX (June 16, 2017) For the second consecutive night, the Scrap Yard Dawgs succumbed to tough pitching. This time it was the USSSA Pride's Jolene Henderson who frustrated the Dawgs offense, allowing one of two Dawgs hits en route to a 7-0 win at the Scrap Yard in The Woodlands. The middle of the order for the Pride was brutal to Dawgs pitching, accounting for seven of the Pride's 13 hits. The Pride put the pressure o...
Full Story

Todays Top Story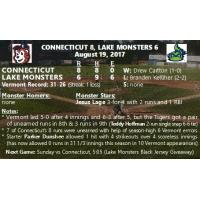 RailRiders Post League-Best 80th Win Magic Number to Win Division Down to Seven Rochester, N.Y. - The SWB RailRiders (Triple-A/New York Yankees) never knew a deficit in a 4-3 series-opening victory over the host Rochester Red Wings (Minnesota Twin...
Happening Now
Tweets By OSC Today