Akron Pitching Stymies Dawgs Offense in Loss

Conroe, TX (June 15,2017) Just as Akron couldn't do much with the pitching of Monica Abbott last night, the Scrap Yard Dawgs were no match of Akron's Jailyn Ford a day later. Ford allowed just three hits and the Racers offense did the rest in a 6-2 win against the Dawgs on Thursday. The win gives the Racers the series win, its first of the season. The loss drops the Dawgs to 4-4 on the year. Ford's season debut was a gem, a...
Full Story

Todays Top Story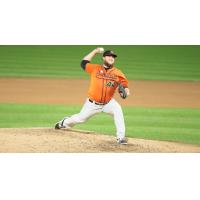 PITCHING LEADS WAY AS FLOCK EVEN SERIES Strong start from Larkins, dominant performance by bullpen lift Ducks over Patriots (Central Islip, N.Y., Sept. 21, 2017) - The Long Island Ducks defeated the Somerset Patriots 4-1 on Thursday night in...
Happening Now
Tweets By OSC Today
Search OSC