Miami Stays Hot, Jacksonville Finally Falls as Spring Season Nears Halfway Point

NEW YORK - Miami FC's attack has been running rampant to start the 2017 North American Soccer League (NASL) Spring Season, and the club continued its red-hot form with a highly entertaining victory in Week 8. Miami maintained its position atop the standings after downing previously undefeated Indy Eleven on Saturday night. The San Francisco Deltas climbed into second place in the Spring Season Standings after scoring late t...
Full Story

Todays Top Story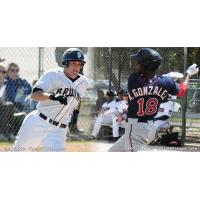 Portland selects midfielders Sandra Yu, Gabby Seiler in first round, Bella Geist in third round PHILADELPHIA - Portland Thorns FC selected midfielders Sandra Yu (No. 8 overall) from Notre Dame and Gabby Seiler from the University of Florida (No. 9...
Happening Now
Tweets By OSC Today
Search OSC