Georgia Swarm Collects a Gutsy Road Win in Game 1 of the East Division Finals

GEORGIA SWARM COLLECTS A GUTSY ROAD WIN IN GAME 1 OF THE EAST DIVISION FINALS Two teams now travel to The Hive to conclude the East Division Finals next Saturday (TORONTO) - The Georgia Swarm (14-5) won its first playoff game since moving to Georgia with an 11-8 victory against the Toronto Rock (10-10) on Saturday, May 13, 2017 at Air Canada Centre. With the win, Georgia now leads in the series and can secure its first-e...
Full Story

Todays Top Story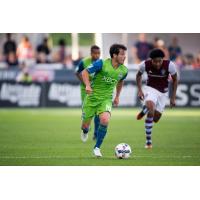 The Calgary Stampeders have clinched first place in the West Division and will host the Western Final on Sunday, Nov. 19 at McMahon Stadium. The Stamps (13-2-1) officially locked up top spot in the division as a result of today's loss by the secon...
Happening Now
Tweets By OSC Today
Search OSC