A's Fall on the Road to Niagara River Lions, 121-106
ST. CATHARINES, ON - After losing a close one to the Kitchener-Waterloo Titans the night before, the Orangeville A's (15-22) headed to the Meridian Centre to take on the Niagara River Lions for a 2:00 PM Sunday afternoon game. Both teams started the game evenly matched offensively as an exchange of baskets ensued early. Anthony Harris continued his great play for the A's as he steadily hit shots and found his way to the basket...
Full Story

Todays Top Story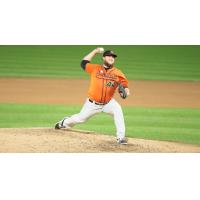 PITCHING LEADS WAY AS FLOCK EVEN SERIES Strong start from Larkins, dominant performance by bullpen lift Ducks over Patriots (Central Islip, N.Y., Sept. 21, 2017) - The Long Island Ducks defeated the Somerset Patriots 4-1 on Thursday night in...
Happening Now
Tweets By OSC Today
Search OSC