Komets Clip Mallards in Overtime 4-3

Fort Wayne, IN-- The Mallards opened the scoring in the first 1:27 of the game and the Komets closed it at 22 seconds into overtime. The Komets clipped the Mallards at Quad City Wednesday night 4-3 in overtime to take a commanding 3-0 lead in the best-of-seven Central Division semifinals series. After Quad City got on the board at 1:27 of the first, the Komets responed with a pair of unanswered goals. First Mike Caz...
Full Story

Todays Top Story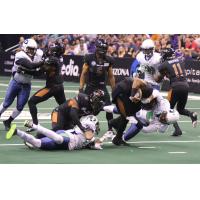 Burlington, IA - The Peoria Chiefs led 8-3 before allowing seven runs on six walks and two hit batters in the fifth inning in a 10-8 loss to the Burlington Bees on Sunday afternoon. The Bees scored seven runs in an inning that included just two hits ...
Happening Now
Tweets By OSC Today
Search OSC