Komets Clip Mallards in Overtime 4-3

Fort Wayne, IN-- The Mallards opened the scoring in the first 1:27 of the game and the Komets closed it at 22 seconds into overtime. The Komets clipped the Mallards at Quad City Wednesday night 4-3 in overtime to take a commanding 3-0 lead in the best-of-seven Central Division semifinals series. After Quad City got on the board at 1:27 of the first, the Komets responed with a pair of unanswered goals. First Mike Caz...
Full Story

Todays Top Story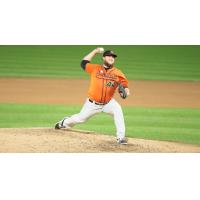 PITCHING LEADS WAY AS FLOCK EVEN SERIES Strong start from Larkins, dominant performance by bullpen lift Ducks over Patriots (Central Islip, N.Y., Sept. 21, 2017) - The Long Island Ducks defeated the Somerset Patriots 4-1 on Thursday night in...
Happening Now
Tweets By OSC Today
Search OSC