Gray Duck vs. Goose on August 19th=21

Gray Duck vs. Goose On August 19th What started as an April Fools joke will become a reality. On Saturday, August 19 the Saints will change their name for one night to the St. Paul Duck, Duck Gray Ducks. The Cleburne Railroaders, the Saints opponent for the night, will have their name changed to the Cleburne Duck, Duck Goose. It may as well be a battle of Minnesota vs. the rest of the U.S. as once and for all a decision wil...
Full Story

Todays Top Story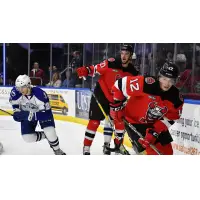 QUICK START PROPELS DEVILS IN 3-2 WIN IN SYRACUSE John Quenneville started the scoring just 11 seconds into the game SYRACUSE, NY - The Binghamton Devils scored three goals in the opening period and Mackenzie Blackwood made 26 saves in a 3-2 road ...
Happening Now
Tweets By OSC Today