Gray Duck vs. Goose on August 19th=21

Gray Duck vs. Goose On August 19th What started as an April Fools joke will become a reality. On Saturday, August 19 the Saints will change their name for one night to the St. Paul Duck, Duck Gray Ducks. The Cleburne Railroaders, the Saints opponent for the night, will have their name changed to the Cleburne Duck, Duck Goose. It may as well be a battle of Minnesota vs. the rest of the U.S. as once and for all a decision wil...
Full Story

Todays Top Story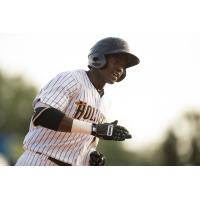 BILOXI, MS - Prior to Monday night's game against the Jackson Generals at MGM Park, Biloxi Shuckers general manager Chuck Arnold and field manager Mike Guerrero presented William Carey University senior project manager Richard Vogel and athletic dire...
Happening Now
Tweets By OSC Today
Search OSC