Gray Duck vs. Goose on August 19th=21

Gray Duck vs. Goose On August 19th What started as an April Fools joke will become a reality. On Saturday, August 19 the Saints will change their name for one night to the St. Paul Duck, Duck Gray Ducks. The Cleburne Railroaders, the Saints opponent for the night, will have their name changed to the Cleburne Duck, Duck Goose. It may as well be a battle of Minnesota vs. the rest of the U.S. as once and for all a decision wil...
Full Story

Todays Top Story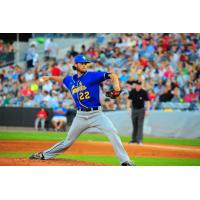 BASEBALL Frontier League: A new ballpark for a proposed Frontier League team in Jackson (MI) has been pulled from plans to redesign the Jackson County Fairgrounds The group trying to build the ballpark ran into financing problems and funding fro...
Happening Now
Tweets By OSC Today
Search OSC