Condors Sweep Tucson with 4-3 Win

TUCSON, Ariz. - The Bakersfield Condors (28-23-5-1) swept the Tucson Roadrunners (24-26-6-0) in a 4-3 win on Saturday night at Tucson Arena. C Anton Lander scored the game-winner on the power play in the third period. Bakersfield maintains its lead for the fourth playoff spot in the Pacific Division. Boxscore FIRST PERIOD CONDORS GOAL: RW Jaedeon Descheneau (4th) power-play goal off a rebound; Assists: Allen, Russell;...
Full Story

Todays Top Story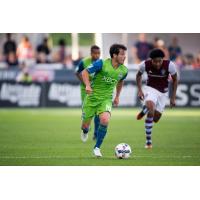 The Calgary Stampeders have clinched first place in the West Division and will host the Western Final on Sunday, Nov. 19 at McMahon Stadium. The Stamps (13-2-1) officially locked up top spot in the division as a result of today's loss by the secon...
Happening Now
Tweets By OSC Today
Search OSC