Condors Sweep Tucson with 4-3 Win

TUCSON, Ariz. - The Bakersfield Condors (28-23-5-1) swept the Tucson Roadrunners (24-26-6-0) in a 4-3 win on Saturday night at Tucson Arena. C Anton Lander scored the game-winner on the power play in the third period. Bakersfield maintains its lead for the fourth playoff spot in the Pacific Division. Boxscore FIRST PERIOD CONDORS GOAL: RW Jaedeon Descheneau (4th) power-play goal off a rebound; Assists: Allen, Russell;...
Full Story

Todays Top Story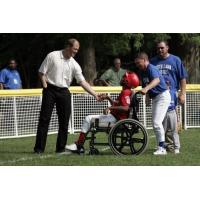 Calgary, Alta. - The WHL Board of Governors voted unanimously today to approve the transfer of the Kootenay ICE ownership from the Chynoweth family to Winnipeg entrepreneur Greg Fettes and hockey executive Matt Cockell. The Chynoweth family have b...
Happening Now
Tweets By OSC Today